Digital Delivery of News Used by Majority of Americans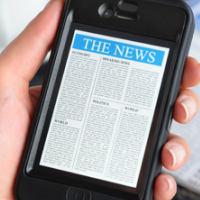 (photo: Hocus Focus Studio/Getty Images)
By Benny Evangelista, New York Times
SAN FRANCISCO -- While television remains the main source of news for Americans, younger viewers are shifting to smartphones and websites for information, according to a study released Thursday.
Even people who like to read all about the news now turn to a phone or computer screen, the report from the Pew Research Center said.
``News is very much a part of people's lives today,'' Amy Mitchell, the center's director of journalism research and one of the report's lead authors, said in an interview. ``But digital innovations have added a new set of influences on the public's news habits.''
The results of the latest ``modern news consumer'' report come from two surveys, one of 4,654 adults nationwide and a followup with 2,078 of the original group, conducted earlier this year.
The center found that:
81 percent of adults get at least some of their news from websites, mobile apps or social networking services.
Seven in 10 adults follow national and local news ``somewhat or very closely,'' and 65 percent do the same for international news.
About 57 percent often get news from local, cable and network TV news outlets. But there is long-term ``fragility behind those TV numbers.'' according to the report, because adults 50 and older were far more likely to stick with TV, while half of those 18 to 49 turned to online news sources.
Since a 2013 report, the number of people getting news on mobile devices increased from 54 percent to 72 percent. And seven in ten people aged 18 to 29 prefer or only use their mobile devices for news.
About two thirds said they also learn about news stories through family and friends.
Overall, 46 percent of adults prefer to watch their news, while 35 percent prefer to read it (in digital and print formats) and 17 percent prefer to hear it on radio. But Pew said nearly 60 percent of news readers now access their news online, while only 26 percent read print publications. The percentage of adults who read print newspapers has dropped from 27 to 20 since 2013.
``Those who prefer to read have mostly migrated to the Web,'' Mitchell said.
Yet Pew found a deep level of skepticism about the news, no matter what the source. Only about one in five Americans said they put ``a lot'' of trust in local and national news organizations.
Democrats were more likely to trust national news sources than Republicans or independents, the study said. About three-quarters of Americans believed news organizations were doing a good job as watchdogs over political leaders, but an equal percentage believed those organizations tended to favor one side over the other, Pew found.
The study showed Americans check a variety of news sources, a finding that seemed to be confirmed by recent discussions about trusted news sources on Reddit.
``You can't put all of your trust into one site, you need to do your own independent research into the things you care about in order to find what you can call your 'truth,''' one Reddit member wrote.
``I trust nothing wholeheartedly. Every source is suspect,'' wrote another. ``It's when you have a large collection of data points that trends emerge and you can begin to see deeper things. Diversify, diversify, diversify.''
To Learn More:
The Modern News Consumer: News Attitudes and Practices in the Digital Era (by Amy Mitchell, Jeffrey Gottfried, Michael Barthel and Elisa Shearer, Pew Research Center)
Breaking News! …is Coming Soon in Virtual Reality (by Omar L. Gallaga, New York Times)
Majority of Americans Born after 1961 More Likely to get News from Facebook than any other Source (by Noel Brinkerhoff, AllGov)
U.S. Lost 30% of its Paid Journalists in 6 Years (by Noel Brinkerhoff, AllGov)
31% of Americans Have Abandoned News Outlets Due to Perceived Decline in Quality (by Noel Brinkerhoff and Danny Biederman, AllGov)