Denver Police Destroy House in 19-Hour Military-Style Assault to Catch Wal-Mart Shoplifter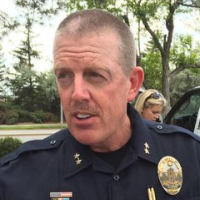 Police Chief John Jackson (photo: Twitter)
By Emma Gannon, Courthouse News Service
LITTLETON, Colo. (CN) — After a Wal-Mart shoplifter fled into stranger's home to avoid arrest, police in suburban Denver destroyed the house in a 19-hour attack with tear gas, flash-bangs and 72 chemical bombs, leaving it "a mass of debris and destroyed belongings," the family says in a lawsuit against the police.
Leo Lech and his family sued Greenwood Village, its Police Chief John Jackson and his entire force, particularly the SWAT team, on June 3 in Arapahoe County Court.
Greenwood Village, pop. 14,000, is a southern suburb of Denver.
All the allegations and quotations in the bizarre story come from the family's 10-page complaint.
On June 3, 2015, Jonathan Seacat shoplifted from a Wal-Mart and fled, pursued by police. Seacat is not a party to the lawsuit. The Lechs say he ran into their home at random, to hide. They didn't know him and he didn't know them. The only one home was a minor boy, D.Z., who fled.
Police then besieged the house for 19 hours. "Defendants used explosives, chemical agents (tear gas), flash-bang grenades, and other devices on and around the Lech home in an attempt to flush out Seacat. At one point during the use of the flash-bang grenades, a badly thrown grenade bounced back and fell upon law enforcement, forcing them to scatter.
"Sixty-eight cold chemical munitions and four hot gas munitions were launched into the Lech home. ... The defendants blasted holes in all windows and doors of the Lech home. Rubble from the blasts was strewn about the property. The interior of the Lech home was a mass of debris and destroyed belongings from the projectiles launched into the home by the defendants. Chemical munitions or other projectiles were stuck in the walls. The Lech home was completely uninhabitable and its condition posed a danger to anyone entering the home."
The Denver Post published a photo of the destroyed home a week after the standoff. The house appears to have suffered artillery bombardment.
After the SWAT team arrested Seacat amid the rubble, police told the Lechs they could go home, but there was "some damage." The Lechs "were never offered a place to stay that night and were never told that their home was completely destroyed."
When Anna Mumzhiyan, who lived with the Lechs, became distraught upon trying to enter what had been her home, "She was threatened with arrest."
Leo Lech's car, parked in the garage, was damaged, as were neighbors' homes, windows and cars. The Lechs suffered nausea for weeks from trying to rescue items from the rubble, and property inspectors sent there wore "full hazmat gear."
The Lechs had to move to another county. Leo Lech had to take a new job at a lower salary. The boy, D.Z., had to transfer schools and enter therapy. One of the family dogs ran away "when holes in the house were blown open," and was found by a Good Samaritan 6 miles away.
The City of Greenwood Village then offered the family "an unconscionable $5,000 in compensation" for the destruction of their two-story, 2,000-square-foot home.
That's not enough, the family says. They seek compensation for their destroyed property and punitive damages for negligence, trespass, intentional and negligent infliction of emotional distress and civil rights, including taking without just compensation.
They are represented by Rachel Maxam in Denver, who did not immediately return a request for comment. Neither did the City of Greenwood Village.
The Denver Post reported in its June 10, 2015 story that according to police, Seacat, 33, took several shots at police. Citing an arrest warrant, the Post reported that when he was arrested, "Seacat was in possession of two loaded handguns, a shotgun and a backpack stuffed with baggies of methamphetamine, heroin and other drugs." Police took him to a hospital for observation, where he "passed several more baggies of meth and heroin in feces," according to the Post.
He was charged with attempted first-degree murder, burglary, assault on a peace officer, multiple drug offenses and other violations.
CBS-TV reported that Seacat was suspected of stealing two belts and a shirt from the Wal-Mart.
To Learn More:
SWAT Teams Avoid Transparency by Registering as Private Corporations (by Steve Straehley, AllGov)
Florida Cop Catches Mom Stealing Groceries and Buys Her $100 of Food Instead of Jail Time (by Danny Biederman and Noel Brinkerhoff, AllGov)
Wal-Mart Employees Killed Accused Shoplifter (by Noel Brinkerhoff and David Wallechinsky, AllGov)