Florida Cop Catches Mom Stealing Groceries and Buys Her $100 of Food Instead of Jail Time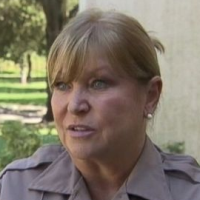 Police officer Vicki Thomas (photo: WSVN)
A South Florida police officer has demonstrated there is more to being a cop than arresting people.
When Miami-Dade Police Officer Vicki Thomas apprehended Jessica Robles outside a grocery store with a shopping cart full of food—$300 worth—that she didn't pay for, she confronted the shoplifter.
"I asked her, 'Why would you do that? What would make you do that?' And she said, 'My children are hungry,'" Thomas told WSVN.
Robles explained that she had three children and no food at home, and was desperate to feed her family. Her boyfriend had lost his job and federal food aid had stopped. She was looking for work, but meanwhile money had run out and her children could not be fed.
"It immediately impacted me," Thomas told ABC News. "My grandchildren flashed before my eyes."
Thomas checked Robles' criminal record, which contained no serious prior arrests. Nor was she a habitual shoplifter.
So the officer charged the mother with a misdemeanor, and then proceeded to buy $100 worth of groceries for Robles to take home.
"I grabbed my debit card, ran back into the store and bought things that would sustain her for a week or so and when I walked out she saw that I had the cart of groceries and she burst out in tears and asked if she could hug me, which is kind of unusual for the suspect to be hugging the officer," Thomas said with a chuckle.
"I made the decision to buy her some groceries because arresting her wasn't going to solve the problem with her children being hungry," Thomas added.
Robles had no car so Thomas loaded her police car with the groceries and drove Robles home.
"All I wanted to tell her is thank you from the bottom of my heart," Robles told WSVN. Tears streamed down the cheeks of her 12-year-old daughter, who said to Thomas, "Thank you so very much for doing it for us…we're very thankful."
"To see [the children] go through the bags when we brought them in, it was like Christmas," said Thomas. "That $100 to me was worth it."
She did have one favor to request of Robles. "The only thing I asked of her is, when she gets on her feet, that she help someone else out. And she said she would."
- Danny Biederman, Noel Brinkerhoff
To Learn More:
Cop Helps Admitted Shoplifter with Groceries (WSVN)
Florida Cop Buys $100 in Groceries for Woman Caught Shoplifting Food (by Christina Ng, ABC News)