Democrats Beat Republicans in Landslide … When Rating Their Supporters' Grammar Skills
Saturday, October 10, 2015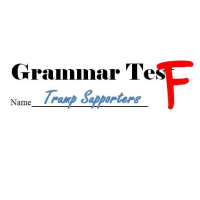 (graphic: Steve Straehley, AllGov)
It's no contest when comparing the grammar skills of Democrats and Republicans, according to Grammarly.
After analyzing the spelling and grammar of comments on each presidential candidate's Facebook page, Grammarly, which markets a grammar-checking app, concluded Republican supporters made more than twice as many mistakes as Democratic supporters. For every 100 words written, the average Democratic supporter made 4.2 mistakes, while the average Republican backer made 8.7 errors.
Grammarly also found that Democrats used 300 unique words for every 1,000 words they wrote, compared to Republicans, who used only 245 unique words for every 1,000. The implication is that Democrats have larger vocabularies.
Among the candidates, supporters of Democrat Lincoln Chafee had the lowest rate of mistakes (3.1 per 100 words), while those backing Donald Trump had the highest rate of mistakes (12.6).
After Chafee came those supporting Democrats Jim Webb, Bernie Sanders and Martin O'Malley. Hillary Clinton's supporters were tied with Republican Carly Fiorina's in fifth place at 6.3 mistakes per 100 words. The supporters of GOP candidates Ben Carson, Lindsey Graham, George Pataki and Ted Cruz followed.
-Noel Brinkerhoff
To Learn More:
New Analysis Ranks Presidential Candidates by Their Supporters' Grammar (by Emily Atkin, ThinkProgress)
Democrats Crush Republicans in Grammar; Chafee on Top (by Paul Singer, USA Today)
Grammarly Presidential Candidates Study (Grammarly)
Trump Supporters Make Twice as many Grammar Errors as Fiorina Supporters (by Noel Brinkerhoff, AllGov)