Creative Distraction of College Free Throw Shooters Really Works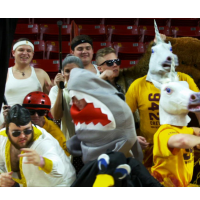 Arizona State's Curtain of Distraction (photo: ESPN)
No sport in the United States compares to college basketball for the intensity of its fans. With student groups such as Duke University's Cameron Crazies and the University of Missouri's Antlers, combined with the proximity of fans to players in college arenas, those in the seats are more than patrons, they're an integral part of the game. And now there's some evidence that fans are having an effect on the game's outcome.
Kevin Quealy and Justin Wolfers of The New York Times analyzed data on free throws in college basketball games and found that student sections, located strategically behind the baskets, can affect the foul-shooting performance of visiting teams.
The arena most hostile to visiting teams is the home of Arizona State's basketball team, where students known as the 942 Crew (referring to the number of seats in the arena's student section) have the Curtain of Distraction. As a visiting player is about to shoot a free throw, the curtain is pulled back to reveal a five-second playlet designed to throw off the shooter's aim. The technique works. Teams shoot almost nine percentage points worse at ASU than they do at home, according to Quealy and Wolfers' analysis, and it's even worse than visitors do in other arenas. This makes a difference of 1.7 points per game.
Opponents of Eastern Michigan did 7.4% worse when playing in Ypsilanti.
Among the distractions cooked up by Arizona State students on behalf of the Sun Devils are twerking farm animals, kissing unicorns, an old lady yelling to get off her lawn and, of course, Elvis. The distractions, combined with the unpredictable nature of what's behind the curtain, often work. "It's the best feeling to see the player at the free-throw line smile after a missed shot," said Alexandria Arroyo, an ASU nursing student who plays the old lady.
Unfortunately, the 942 Crew won't be working its magic in the upcoming NCAA tournament; the Sun Devils are a mediocre 17-15 and won't be in the bracket.
-Steve Straehley
To Learn More:
Free-Throw Distraction: The Best Fans in the NCAA (by Kevin Quealy and Justin Wolfers, New York Times)
How Arizona State Reinvented Free-Throw Distraction (by Justin Wolfers, New York Times)