Chicago College Dean Fired for Reporting Discovery of Decomposing Bodies on Campus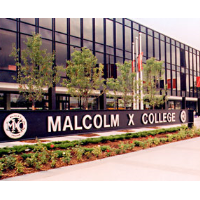 University of Michigan photo
The dean of a Chicago college is suing his former employer because he claims he was fired for reporting the presence of decomposing bodies in one of the school's buildings.
Dr. Micah Young was dean of health sciences and career programs at Malcolm X College
until February 4, when he was fired for "alleged performance issues," according to Courthouse News Service. But Young claims the firing had more to do with his talking to the inspector general of the City Colleges of Chicago, which operates Malcolm X.
That interview, which took place a week before Young's termination, was about his discovery last summer of four decomposing bodies in an unrefrigerated walk-in safe on campus. Later, it was found that eight other bodies were stored in similar conditions at other city colleges.
After finding the four cadavers at Malcolm X, Young informed the school's president, Dr. Anthony Munroe. "Munroe's subsequent inquiries revealed that several staff members were previously aware of the existence and improper storage of the bodies," Lisa Klein wrote at Courthouse News Service.
Young says he told Munroe that the storage and condition of the cadavers violated numerous workplace safety, public health and other regulations, and "that countless employees, students and other visitors of Malcolm X College have been and continued to be exposed, through air vents, to bacteria and germs from decaying human bodies," according to his complaint, filed in a Cook County court.
-Noel Brinkerhoff
To Learn More:
Dean Says Gruesome Discovery Led to Firing (by Lisa Klein, Courthouse News Service)
Suit: Former Malcolm X Dean Fired For Complaining About Decomposing Bodies Stored In Lab (by Jordan Owen, Chicago Sun Times)
Attorney: Malcolm X Health Sciences Dean Fired For Blowing Whistle Improperly Stored Cadavers (by Steve Miller, CBS Chicago)