Characters more likely to be Killed in Children's Films than in Movies for Adults
Tuesday, December 23, 2014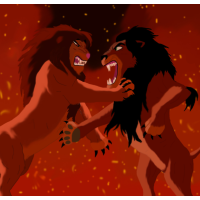 Scene from "The Lion King" (photo: Walt Disney Co.)
Carnage on the big screen can be traumatic, not to mention homicidal. And we're not talking about movies for adult audiences.
British researchers have concluded that when it comes to death and murder, children's films are worse than the entertainment their parents enjoy.
"Exposure to on-screen death and violence can be frightening to young children and can have intense and long-lasting effects," the study published in BMJ states. "This might be particularly problematic when children have not been prepared, through candid discussion with parents or caring adults, to face these themes."
The researchers added that "on-screen deaths can be particularly traumatic for children as they directly expose them to loss of life. Death, often gruesome and sensationalized, is featured prominently in North American films."
Study leaders James Kirkbride, professor of psychiatry at the University College London, and Dr. Ian Colman, professor of psychology at the University of Ottawa, said: "Rather than being innocuous and gentler alternatives to typical horror or drama films, children's animated films are, in fact, hotbeds of murder and mayhem," and "rife with death and destruction."
Death for main characters in kids' films were more than twice as likely to happen, and three times more likely in the form of murder.
The study examined 45 popular films from 1937 to 2013. Children's movies included "Snow White and the Seven Dwarfs," "The Lion King," and "Frozen." Adult films examined included "Pulp Fiction," "What Lies Beneath," and "Black Swan."
-Noel Brinkerhoff
To Learn More:
CARTOONS KILL: Casualties In Animated Recreational Theater In An Objective Observational New Study Of Kids' Introduction To Loss Of Life (by Ian Colman, Mila Kingsbury, Murray Weeks, Anushka Ataullahjan, Marc-André Bélair, Jennifer Dykxhoorn, Katie Hynes, Alexandra Loro, Michael S. Martin, Kiyuri Naicker, Nathaniel Pollock, Corneliu Rusu, James B. Kirkbride and Sir Henry Dale, BMJ)
The Violent Truth About Kids' Movies (by Beth Greenfield, Yahoo!)
71% of Characters in Children's Films are Male (by Noel Brinkerhoff, AllGov)