Cell Phone Companies Held Not Liable for Murder-for-Hire Call Transmitted Through Their Cell Towers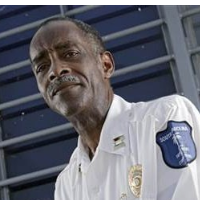 Robert Johnson (photo: Brett Flashnick, AP)
Cell phone companies cannot be held liable for allowing phone calls between a South Carolina prison inmate and a hit man hired to kill a prison guard, a federal court has ruled.
Correctional officer Robert Johnson was the target of an unsuccessful murder-for-hire in 2010 by an inmate of Lee Correctional Institution in Bishopville not identified in court documents. But the hit man, Sean Echols, did confess to shooting Johnson at the request of the inmate. Johnson, while at home, was shot six times in the torso but survived. The arrangement was made using a cell phone smuggled into Lee.
Johnson and his wife, who witnessed the shooting, sued nine telecommunications providers, including AT&T, Verizon, Sprint and T-Mobile, claiming they should be held partly responsible for allowing the calls that arranged for the shooting.
But the Fourth Circuit Court of Appeals, which heard the case after it was first filed in state court, rejected Johnson's claim. The court noted that the plaintiffs argument would mean the cell phone providers would have had to stop the calls and, in doing so, violate federal law that prohibits such actions regulated by the Federal Communications Commission (FCC).
"This suit presents a novel but flawed legal theory applied to admittedly tragic facts," U.S. Circuit Judge Henry Franklin Floyd wrote. "The Johnsons' legal theory would force cell phone tower owners to impede the FCC's authority in establishing wireless service areas."
-Noel Brinkerhoff
To Learn More:
Firms Not Liable for Hit Arranged by Cellphone (by Charly Himmel, Courthouse News Service)
Robert Johnson, Mary Johnson v. American Towers, LLC, et al (U.S. Court of Appeal for the Fourth Circuit) (pdf)
U.S. Law Enforcement Intercepted Cell Phone Tower Data 9,000 Times in One Year (by Noel Brinkerhoff, AllGov)
New Law Lets Government Shut Down Cell Service, but Only in an "Emergency" (by Ken Broder, AllGov California)
Law Enforcement Demands Cell Phone Details from Telecoms more than 3,500 Times a Day (by Noel Brinkerhoff and David Wallechinsky, AllGov)