California Enacts Nation's Toughest Climate Law
Monday, September 12, 2016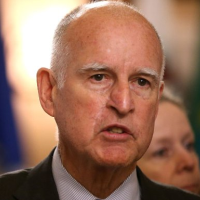 Gov. Jerry Brown (photo: Justin Sullivan, Getty Images)
By David R. Baker, New York Times
SAN FRANCISCO -- Gov. Jerry Brown on Thursday signed the nation's toughest climate law, requiring California to slash its greenhouse gas emissions 40 percent below 1990 levels by 2030 while leaving open the question of exactly how to do it.
No other state has enacted such deep emission cuts into law. The legislation goes well beyond the reductions required by California's landmark 2006 global warming law, AB32, which called for returning emissions to 1990 levels by 2020.
The state's emissions have fallen 9.5 percent since peaking in 2004, and analysts now consider the 2020 goal well within reach.
``Here we are, 10 years later, emissions have gone down and the economy has gone up,'' said state Sen. Fran Pavley, D- Los Angeles County, who wrote AB32 as well as the new law, SB32. ``It's a success story.''
Brown also signed a companion bill, AB197, which prioritizes efforts to cut emissions in low-income or minority communities. Many such communities are near facilities such as oil refineries and factories that produce both greenhouse gases and the toxic air pollution that can cause respiratory problems.
Brown warned that climate legislation still faces political resistance in Sacramento.
The new law, for example, does not contain a provision Brown badly wanted, explicitly authorizing California's cap-and-trade system for controlling emissions to keep running after 2020. The system, once considered a model for the nation, now faces an uncertain future, and Brown has suggested he may sponsor a ballot measure asking voters to save it.
At a signing ceremony Thursday in Los Angeles, the governor slammed oil companies and automakers that he said had, over the years, repeatedly tried to block California's efforts to slow global warming.
``There's powerful opposition,'' Brown said. ``These are real people with real bucks and real influence.''
He pledged to continue pushing climate legislation anyway. ``It's going to take battle, some wisdom, and it's going to take some balance so we don't overdo it,'' he said.
Brown last year issued an executive order setting the 40 percent reduction target, and his predecessor, Arnold Schwarzenegger, released his own order in 2005 calling for an 80 percent emissions cut by 2050. But executive orders can be easily discarded by future administrations. Laws cannot.
The new laws drew a chilly reception from the California Chamber of Commerce, which has often argued that the state's climate policies push up energy prices for consumers and drive businesses out of the state.
``Taken together, SB32 and AB197 impose very severe caps on the emission of greenhouse gases in California without requiring the regulatory agencies to give any consideration to the impacts on our economy, disruptions in everyone's daily lives or the fact that California's population will grow almost 50 percent between 1990 and 2030,'' said Chamber President and CEO Allan Zaremberg in an emailed statement.
In several ways, Thursday marked a turning point in the state's climate fight.
Lawmakers who represent low-income communities have increasingly chafed at global warming policies -- such as rebates for buying solar panels or electric cars -- that mainly help the wealthy or the middle class. Written by Assemblyman Eduardo Garcia, D-Coachella (Riverside County), who represents the desert communities surrounding the Salton Sea, AB197 was seen as a way to address that imbalance.
AB197 also lets the Legislature appoint two nonvoting members to the California Air Resources Board, which runs most of California's global warming programs. And it requires the board to post on its website data about emissions of greenhouse gases and toxic air pollutants from individual facilities.
``Not only are we doubling down on building a new clean energy economy, we're also putting into law the principles of environmental justice in all our climate goals,'' said state Senate President Pro Tem Kevin de Leon.
Assembly Speaker Anthony Rendon said passage of the two companion bills marked the rise of ``Eastside environmentalists'' -- a reference to the heavily Hispanic community in Los Angeles -- who will now begin exerting greater influence on the state's climate policies.
At the same time, the signing ceremony represented a victory lap for Pavley, the Legislature's most powerful voice on climate issues for the past 16 years.
In addition to AB32, Pavley in 2002 wrote a law to cut greenhouse gas emissions from cars. Bitterly opposed by automakers, that law eventually became the basis for federal fuel mileage standards under President Obama, who personally thanked Pavley for her work.
Unable to run for re-election because of term limits, Pavley acknowledged Thursday that it was time to pass the baton, and she thanked some of the newer lawmakers who backed her legislation, particularly Garcia. Their partnership on the two bills helped ensure passage.
``This is my third climate bill with my third governor, and it's been a pleasure working with all of you,'' she said.
To Learn More:
California Senate Bill No. 32 (California Legislature)
38% of Californians, Mostly Republicans, Deny Climate Change Affects the State (by Ken Broder, AllGov California)
State's Global Warming Law Passes Key Judicial Hurdle (by Ken Broder, AllGov California)