Border Patrol Agents Accused 3-Year-Old of Crossing Border in Search of Work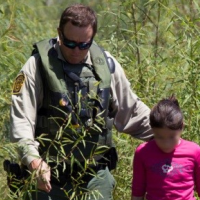 (photo: Customs and Border Protection)
Border Patrol agents claim that a 3-year-old boy said the reason he came to the United States was to look for work, thus making it easier for the undocumented immigrant to be deported.
The boy, hailing from Honduras and identified in court documents as Y.F., was allegedly interviewed in the summer of 2014 by Border Patrol agents trying to determine if immigrants had a credible fear of harm or death if they returned to their home countries. Those who claim such fear—and can prove it—have a shot at getting asylum in the United States, while those who say they came looking for work are most often deported.
Agents interviewed Y.F. and wrote on the appropriate form that he said he was looking for work. A brief (pdf) filed by the American Immigration Lawyers Association (AILA) with the Justice Department Board of Immigration Appeals points out the unlikelihood of that being true. "Y-F-'s interview, so painstakingly transcribed, sworn, signed and counter-signed, almost certainly never happened in the format in which it was memorialized. The impossibility of the interview, in spite of the DHS officers' affirmations of veracity and the rule of government regularity is plain on the face of the writings themselves: Y-F- was three years old at the time he was interrogated," the brief said.
AILA says that information on those forms, I-867 A/B, "are not inherently reliable because they often contain fake responses, do not accurately reflect testimony presented, and were almost always created under coercive conditions," according to AILA.
The case of Y.F. isn't unique. Earlier this year, the Department of Homeland Security (DHS) argued that a particular undocumented immigrant should be deported because she came to the United States to find work in Dodge City, Kansas, according to Elise Foley of Huffington Post. The immigrant was 11 days old at the time.
The case against the infant girl was thrown out because her mother claimed the baby was born in the United States. The boy, now 4, has been living in a detention center in Texas for a year. He has been approved for release, but his mother has not, so he remains in detention.
Maybe he can apply for a work release.
-Steve Straehley
To Learn More:
Infants and Toddlers Are Coming to the U.S. To Work, According to Border Patrol (by Elise Foley, Huffington Post)
Border Agent Allegedly Claimed That 3-Year-Old Child Crossed Border to 'Look for Work' (By Esther Yu-Hsi Lee, ThinkProgress)
Brief of Amicus, American Immigration Lawyers Association (U.S. Department of Justice) (pdf)