Atoning for Past, Georgetown University to Award Preferential Admission Status to Descendants of Slaves
Friday, September 02, 2016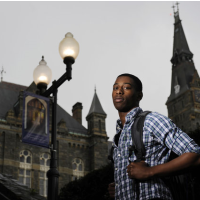 Freshman Darryl Robinson on Georgetown campus (photo: Washington Post via Getty Images)
By Rachel L. Swarns, New York Times
Nearly two centuries after Georgetown University profited from the sale of 272 slaves, it will embark on a series of steps to atone for the past, including awarding preferential status in the admissions process to descendants of the enslaved, university officials said Thursday.
Georgetown's president, John J. DeGioia, who announced the measures in a speech Thursday afternoon, said he would offer a formal apology, create an institute for the study of slavery and erect a public memorial to the slaves whose labor benefited the institution, including those who were sold in 1838 to help keep the university afloat.
In addition, two campus buildings will be renamed — one for an enslaved African-American man and the other for an African-American educator who belonged to a Catholic religious order.
So far, DeGioia's plan does not include a provision for offering scholarships to descendants, a possibility that was raised by a university committee whose recommendations were released Thursday. The committee, however, stopped short of calling on the university to provide such financial assistance, as well as admissions preference.
DeGioia's plan, which builds on the recommendations of the committee that he convened last year, represents the university's first systematic effort to address its roots in slavery. Georgetown, which was founded and run by Jesuit priests in 1789, relied on the Jesuit plantations in Maryland — and the sale of produce and slaves — to finance its operations.
"This community participated in the institution of slavery," DeGioia said, addressing a crowd of hundreds of students, faculty members and descendants at Georgetown's Gaston Hall. "This original evil that shaped the early years of the Republic was present here. We have been able to hide from this truth, bury this truth, ignore and deny this truth."
"As a community and as individuals, we cannot do our best work if we refuse to take ownership of such a critical part of our history," he said. "We must acknowledge it."