At Least 224 Prison Escapees are Still Unaccounted For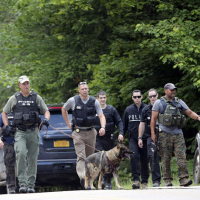 Police manhunt for two escapees from Clinton prison (photo: Mike Groll, AP)
Roaming or hiding throughout the United States are at least 224 prisoners who escaped over the years from their state penitentiaries, according to the Associated Press.
A review of prison records from nearly all states revealed that, officially, 224 inmates are currently on the loose, the AP found.
Twenty-four states reported having no prisoners on the lam. California and Ohio didn't provide figures, and some states provided records for only recent decades, suggesting that the fugitive total is actually higher than the estimated 224.
Included in the figure are the two convicted killers who recently made a daring escape from the Clinton Correctional Facility in upstate New York. The manhunt involving 800 federal, state and local law enforcement officers has been ongoing.
Other fugitives on the list include a convicted murderer who broke out of his Texas prison by crawling through the ventilation ducts, and an Indiana murderer who escaped in a garbage truck. Another convict, from Florida, had help from other inmates who packaged him in a furniture crate and shipped him out of prison.
Many of the 224 are probably dead, said AP's Jennifer Peltz, due to the fact that they escaped decades ago. One Illinois escapee from 1955, if he was still alive, would be 112. The state of Maryland has 90 unsolved prison escapes, some dating back to 1937.
Some longtime fugitives eventually do get recaptured. Texas kidnapper and attempted cop killer Jose Juan Salaz evaded police for nearly 20 years after climbing three 16-foot, razor wire-topped prison fences in 1997 to escape. He was apprehended in Mexico and returned to the U.S. last year.
Peltz reported that one 1977 Kansas escapee was caught last year with the help of facial recognition technology when he applied for a Florida driver's license. A California fugitive was found 36 years after his escape when his dying mother inadvertently gave him away—her deathbed effort to contact him led authorities to check her phone records, which nailed his location. And after 40 years, wrote Peltz, a convicted thief simply got tired of hiding and called police to come get him.
"You don't forget about them," former Oklahoma corrections chief James Saffle, who tracked escaped convicts for more than a decade, told the AP. "Sometimes, some little action they take will trigger something."
-Noel Brinkerhoff, Danny Biederman
To Learn More:
Across US, Over 220 Prison Escapees Listed as on the Loose (by Jennifer Peltz, Associated Press)
A List of Oklahoma Prison Escapees Who Remain on the Loose (Associated Press)
Escaped Kidnapper, Attempted Cop Killer Returned To Texas After Flight To Mexico (by Allan Turner, Houston Chronicle)
Escaped California Convict Recaptured in Oklahoma after 38 Years on the Run (Associated Press)
The Little Known World of Private Prison Transport: Escapes, Rapes, and Death (by Steve Straehley and Danny Biederman, AllGov)
First Woman on U.S. Most Wanted Terrorist List (by Noel Brinkerhoff and Aaron Wallechinsky, AllGov)