And the Average Penis Size Is…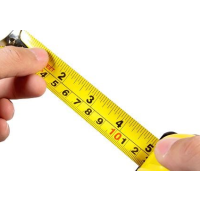 (photo KID/Getty Images)
If size really does matter, here's the bar to clear: 5.2 inches.
Researchers at King's College London, King's College NHS Foundation Trust and South London and Maudsley NHS Foundation Trust examined data collected in other studies that factored in penis measurements from more than 15,000 men. They found, according to their report in BJU International, the journal of British urological surgeons, that the average erect penis is 5.2 inches long. The average penis at rest is 3.6 inches from the base to the glans. The average circumference of a resting penis is 3.7 inches, and 4.6 inches for an erect one.
The researchers found no correlation between penis size and foot size, palm size or any other urban legend that purports to make such a connection.
They did caution that studies might be skewed because men with larger penises might be more inclined to participate in a study that measured their vital organ.
Gentlemen, start your tape measures.
- Steve Straehley, Noel Brinkerhoff
To Learn More:
Am I Normal? A Systematic Review and Construction of Nomograms for Flaccid and Erect Penis Length and Circumference in Up to 15,521 Men (by David Veale, Sarah Miles, Sally Bramley, Gordon Muir and John Hodsoll, BJUI International) (pdf)
Science Goes to Great Lengths to Measure Average Penis Size (by Karen Kaplan, Los Angeles Times)
Chubby Checker Sues over Name of Penis Size Guessing App (by Noel Brinkerhoff, AllGov)