All-Time Highest Temperature Recorded in Antarctica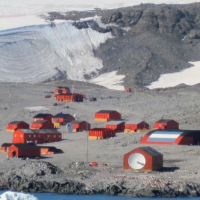 Argentina's Base Esperanza (photo: Wikipedia)
Things are heating up in Antarctica, which recently registered the warmest temperature ever recorded there.
Base Esperanza, controlled by Argentina and located near the northern tip of the Antarctic Peninsula, recorded a temperature of 63.5°F on March 24, according to the Weather Underground. That was nearly four degrees higher than the previous high for the continent (59.0°F), which was recorded at Vanda Station on January 5, 1974. Esperanza's previous record high was 62.7°F, taken on April 24, 1961.
The Esperanza reading came just one day after another Argentinean station, Base Marambio, recorded a new temperature high for its location of 63.3°F on March 23.
Marambio is located about 60 miles southeast of Esperanza, according to Christopher Burt at Weather Underground.
"One surprising aspect of the temperatures measured recently at Esperanza and Marambio are that they occurred in autumn, nearly three months past the usual warmest time of the year in the Antarctic Peninsula," noted Burt.
Because of its location in the southern hemisphere, Antarctica's seasons occur opposite of those in the United States. Summer takes place from October to February on the frozen continent, while March represents the beginning of winter, according to Cool Facts about Antarctica.
-Noel Brinkerhoff
To Learn More:
Possible New Continental Heat Record for Antarctica (by Christopher Burt, Weather Underground)