Alabama Candidate Claimed Endorsement of Dead Person
Wednesday, September 20, 2017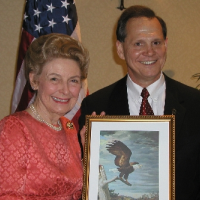 Roy Moore with Phyllis Schlafly, before she endorsed him after her death (photo: Eagle Forum)
By Daniel Jackson, Courthouse News Service
(CN) — In Alabama's runoff election for the Republican nomination for a U.S. Senate seat, Luther Strange may have the crowning endorsement of President Donald Trump, but Roy Moore seemed to have support from beyond the grave.
On Monday night, Moore's campaign deleted an endorsement on its website from Phyllis Schlafly, a conservative activist known for pushing the GOP to the right on social issues.
Schlafly presented her organization, the Eagle Forum, as the opposite of the women's liberation movement of the 70s.
While the former chief justice of the Alabama Supreme Court thinks highly of Schlafly – Moore told the Eagle Forum in a 2015 speech that she was his hero – she died last year at the age of 92.
Her death came before Trump won the presidency, before he nominated then-U.S. Sen. Jeff Sessions to be his attorney general, and before the need for the primary in Alabama ever arose due to Sessions' vacant Senate seat.
It's another moment in a race between two candidates that are ideologically close and who have relied on backing and endorsements outside of Alabama to convince Republican voters that they best represent the stylistic direction of the GOP.
According to an archived screenshot of Moore's website taken on Sunday, the endorsement came from an inference of another Moore endorser: Ed Martin, president of the Phyllis Schlafly Center.
Among conservative circles, Martin isn't without controversy.
Before she died, Schlafly named Martin as her successor, and he became president of the Eagle Forum. Together, they wrote Schlafly's last book, "The Conservative Case for Trump."
But on Oct. 20, 2016, a circuit court judge in Madison County, Ill., suspended Martin from his office, finding that he violated his duties to the organization.
It was part of a fight over Schlafly's legacy between Martin, Schlafly's family and other members of the Eagle Forum who supported then-presidential candidate Ted Cruz, according to a St. Louis Post-Dispatch report.
In response, Martin started a new organization, Phyllis Schlafly's Eagles.
Strange — Alabama's former attorney general who was appointed to fill the Senate seat left vacant by Sessions until a permanent replacement could be chosen – ran a better organized campaign with more funding than Moore in the Alabama primary, while Moore touted his small army of endorsements throughout the campaign.
Icons in conservative media such as Ann Coulter and Sean Hannity sided with Moore, as did politicians like Sarah Palin and Mike Huckabee.
Even former University of Alabama running back Siran Stacy and Rod Martin, co-founder of PayPal, supported the former judge's campaign.
But on Friday, on the last lap of the race before voters head to the polls Sept. 26, the Strange campaign will leverage its biggest endorsement at a scheduled "Make America Great Again" rally featuring President Trump.
The rally comes after Trump tweeted Saturday, "I will be in Huntsville, Alabama, on Saturday night to support Luther Strange for Senate. 'Big Luther' is a great guy who gets things done!"
To Learn More:
Alabama Judge Removed Again—This Time for Defying Same-Sex Marriage Ruling (by Kim Chandler, Associated Press)
Top Three Republican Leaders in Three Branches of Alabama Government Embroiled in Scandal or Wrongdoing (by Jay Reeves, Associated Press)
States where Politicians have Vowed to Continue Fighting Same-Sex Marriage (by Noel Brinkerhoff, AllGov)