5 Women Born in the 19th Century are Still Alive
Saturday, January 10, 2015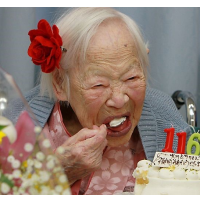 Misao Okawa (photo: AFP/Getty Images)
Five women in the world today can claim to have witnessed a little of the 19th century … as well as the entire 20th century and part of the 21st century.
The oldest known living person is Misao Okawa of Japan. She's 116, born March 5, 1898. She lost her husband in 1931, and has been a widow for 83 years. Her secret to longevity is plenty of sleep and plenty of food, including sushi.
The next oldest is Gertrude Weaver of the United States. Also 116, but a bit younger than Okawa, Weaver has the distinction of being the oldest living American. The Arkansas native has outlived her husband and three children, but has one son in his 90s. It's unclear whether she was born in April or July of 1898.
Third on the international list, and second on the U.S. list, is Jeralean Talley, 115. The Michigan resident has tried to remain active, mowing her lawn until she was 105 and bowling until 104. She just recently stopped traveling to casinos to play the slots. But she still goes fishing with friends and relatives at least once a year.
The third U.S. resident on the list is with Susannah Mushatt Jones, who's 115. The daughter of an Alabama sharecropper, Jones moved to New York City in 1923. She still lives there today at a senior center in Brooklyn.
Last on the list is Emma Morano of Italy. The 115-year-old is the oldest person in Europe, and still lives on her own in northern Italy.
-Noel Brinkerhoff
To Learn More:
Yes, Six People Born in 19th Century Are Still With Us (Matthew Diebel, USA Today)
Numbers of Living Supercentenarians as of Last Update (Gerontology Research Group)
GRG Names Gertrude Weaver, 116, the New 'Oldest Living American' Titleholder (Grg.org)
Bernice Madigan, State's Oldest Citizen, Dies at 115 (by Tammy Daniels, iBerkshires.com)