40 New York Millionaires Want Taxes Raised on Wealthy
Wednesday, March 23, 2016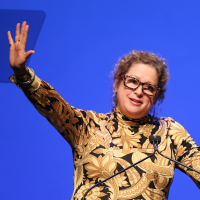 Abigail Disney (photo: Getty Images)
By David Klepper, Associated Press
ALBANY, N.Y. (AP) — A group of more than 40 millionaires in New York state has written to Democratic Gov. Andrew Cuomo and top lawmakers calling on them to consider raising taxes on the state's wealthiest residents to help address poverty and rebuild failing infrastructure.
The letter, a copy of which was given to The Associated Press, proposes new, higher tax rates for the top 1 percent of earners.
The letter goes on to say additional revenue is needed to address child poverty, homelessness and aging bridges, tunnels, waterlines and roads.
"As New Yorkers who have contributed to and benefited from the economic vibrancy of our state, we have both the ability and the responsibility to pay our fair share," the letter states. "We can well afford to pay our current taxes, and we can afford to pay even more."
Those signing the letter include Abigail Disney, Leo Hindery and Steven C. Rockefeller. The tax plan, known as the one-percent tax plan, was worked out in conjunction with the Fiscal Policy Institute, a left-leaning economic think tank.
"As a businessman and philanthropist and as a citizen of New York State, I believe we need to invest in our people and our infrastructure," Hindery, the managing partner of InterMedia Partners, a media industry private equity fund, said in a statement accompanying the letter. "The one-percent tax plan makes it possible to make these investments, and simply asks people like me to continue to pay a higher tax rate, as we should."
The one-percent plan would create new, higher tax rates for those making $665,000 or more.
Currently, single filers making more than $1,062,000 pay the state's top rate of 8.82 percent. Under the one-percent plan, the 8.82 rate would apply to anyone making $1 million to $2 million, and higher rates of 9.35 percent, 9.65 percent and 9.99 percent would apply to those making $2 million to $10 million, $10 million to $100 million and more than $100 million, respectively.
Their proposal faces significant political obstacles in the state Legislature. While the Democratic majority in the Assembly has its own plan to increase taxes on millionaires, the Republican-led Senate opposes the idea. Lawmakers are now negotiating the details of the state budget and hope to have a deal in place by April 1.
An existing, lower tax on millionaires is set to expire next year.
"Whether it's income taxes, property taxes, business taxes, user fees, or tolls, we don't support raising taxes or asking hard-working New Yorkers to dig deeper into their pockets to pay more," Senate Leader John Flanagan, a Long Island Republican, said last month after Assembly Speaker Carl Heastie, a Democrat, released his millionaire tax plan.
To Learn More:
Some Governors want to Cut Taxes for the Rich and Increase Taxes for the Poor (by Noel Brinkerhoff and Danny Biederman, AllGov)
U.S. Government Redistributes Wealth…to the Rich (by Matt Bewig, AllGov)
U.S. Gives Millionaires $30 Billion a Year in Tax Breaks and Payments (by Noel Brinkerhoff and David Wallechinsky, AllGov)
Boom Times for Millionaires (by Noel Brinkerhoff, AllGov)