World Trade Organization Overrules U.S. Country-of-Origin Rules for Meat Products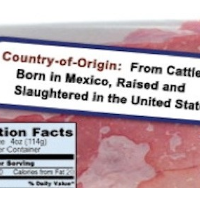 (photo: Food Safety News)
U.S. government attempts to inform consumers about the origins of the beef and pork they purchase in stores have been undermined by the World Trade Organization (WTO).
Siding with officials from Canada and Mexico, the WTO ruled that American regulations that require the meat industry to use country of origin labels (COOL) represent a violation of the North American Free Trade Agreement (NAFTA). COOLs are intended to tell shoppers in which country the meat they buy was born, raised and slaughtered. In addition to letting consumers know if the meat was produced locally, they gave regulators a way to begin tracing the meat in case of a problem with it.
Mexican and Canadian officials argued the labels discouraged Americans from buying meat produced in their countries and exported to the U.S., creating an unfair trade situation.
"This is just the latest example of how multinational companies use the global trade system to attack basic protections for U.S. consumers," Wenonah Hauter, executive director of Food & Water Watch, said in a statement. "The meat industry has been trying – and failing – for years to get rid of COOL through the U.S. system, so it had to use unaccountable, unelected trade officials at the WTO to do its dirty work."
U.S. officials said Congress will have to revise federal law to avoid being sanctioned by the WTO, which could result in tariffs being imposed.
The ruling came as President Barack Obama tries to sell the Trans-Pacific Partnership (TPP) trade deal to Congress and the American people. In response to concerns about TPP, Obama said, "Critics warn that parts of this deal would undermine American regulation – food safety, worker safety, even financial regulations. They're making this stuff up. This is just not true. No trade agreement is going to force us to change our laws."
The labeling ruling by the WTO would appear to contradict his assertion.
-Noel Brinkerhoff, Steve Straehley
To Learn More:
WTO Ruling on Meat Labels Exemplifies Corporate Profits Trumping Democracy (by Jon Queally, Common Dreams)
Shoppers Could Soon Have Difficulty Finding Meat's Origin (by Mary Clare Jalonick, Associated Press)
WTO Trade Agreement Trumps U.S. Food Safety Policy (Center for Food Safety)
Meat Industry Fights New Regulations Requiring Country-of-Origin Labeling and Forbidding Mixing of Meat from Different Countries (by Noel Brinkerhoff, AllGov)