Wisconsin Judges Who Received Campaign Funds from Business Groups Order Destruction of Evidence about Groups' Connection with Gov. Scott Walker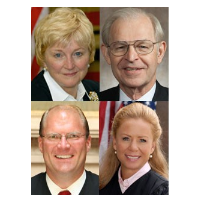 Wisconsin Supreme Court justices clockwise from top left: Roggensack, Prosser, Ziegler, Gableman (photos:Wisconsin Supreme Court)
An investigation that could have disrupted Wisconsin Governor Scott Walker's bid for the White House has been stamped out by that state's Supreme Court, many of whose members have the same financial backers as Walker.
The court ruled 4-2 to end the John Doe investigation of Walker's 2012 campaign to fight off being recalled from office. After winning the election, Walker was accused of coordinating with conservative and big business advocacy groups that fought his recall. If proven, both Walker and his backers would be in violation of the law.
The probe was challenged by conservative and business organizations—the Wisconsin Club for Growth, Wisconsin Manufacturers & Commerce, and Citizens for a Strong America—which also spent money on others running for office, such as members of the Wisconsin Supreme Court. In fact, the four justices who voted to quash the investigation all received substantial contributions from the groups.
The Wisconsin Democracy Campaign (WDC) estimated that the Wisconsin Club for Growth spent $400,000 on Justice Annette Ziegler in 2007; $507,000 on Justice Michael Gableman in 2008; $520,000 on Justice David Prosser in 2011; and $350,000 on Justice Patience Roggensack in 2013.
WDC also estimated that Wisconsin Manufacturers & Commerce spent $2.2 million for Ziegler; $1.8 million for Gableman; $1.1 million for Prosser; and $500,000 for Roggensack. Citizens for a Strong America spent an estimated $985,000 in support of Prosser.
That the justices accepted monies from parties involved in the case they were deciding would seem like a conflict of interest. However, the court in 2010 changed the rules so that campaign contributions were no longer a reason for judicial recusal. The Wisconsin Manufacturers & Commerce helped draft the rule change, the Brennan Center for Justice reported.
"This ruling raises grave concerns about the fairness and impartiality of the court in this case," Matt Menendez, counsel at the Brennan Center for Justice, said. "Based on publicly available information, it is extraordinary that the Wisconsin Supreme Court refused to explain how several the justices could, ethically and constitutionally, even rule on this case."
As part of its ruling, the court majority also ordered the special prosecutor conducting the investigation to return all potential evidence and destroy all copies, including thousands of pages of emails and other documents, Steven Verburg of the Wisconsin State Journal reported.
-Noel Brinkerhoff
To Learn More:
Wisconsin Supreme Court Ends Walker Investigation, Eviscerating State's Campaign Finance Limits and Raising Questions about Judicial Impartiality (Brennan Center for Justice)
State Supreme Court Halts John Doe Probe Looming Over Scott Walker's Presidential Bid (by Steven Verburg, Wisconsin State Journal)
Wis. High Court Kills Final 'John Doe' Investigation of Walker Aides (by Molly Willms, Courthouse News Service)
John Doe Ruling (Wisconsin Supreme Court)
Judge Tries to Order Destruction of Evidence in Campaign Corruption Investigation Relating to Wisconsin Gov. Walker (by Noel Brinkerhoff, AllGov)