Wage Gap between Men and Women Drops to "Only 21%"
Saturday, September 19, 2015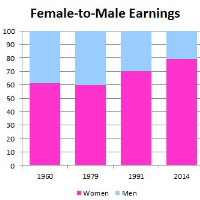 (graphic: Steve Straehley, AllGov)
Some "good" news has arrived in the struggle for women's equality. The wage gap between men and women has shrunk … to only 21%.
A report (pdf) from the U.S. Census Bureau show the gender wage gap reached an all-time low last year. Women who were fully employed earned 78.6% of what men made, up from 77.6% in 2013. The gap is the smallest since 1960 when the Census Bureau began collecting such data.
But the improvement wasn't much to speak of, according to Frida Garza at Quartz.
"Put in context, there hasn't been a meaningful narrowing of the country's gender pay gap since 2007, when it was 77.8%," she wrote.
Although some women earn less because of breaks for child rearing or different career paths, there are differences that can't be explained by anything but discrimination, ThinkProgress reported.
-Noel Brinkerhoff
To Learn More:
The U.S. Gender Wage Gap, the Narrowest in History, Is Still Awful (by Frida Garza, Quartz)
New Census Data Shows the Gender Wage Gap Hasn't Improved in 7 Years (by Bryce Covert, ThinkProgress)
Income and Poverty in the United States: 2014 (by Carmen DeNavas-Walt and Bernadette D. Proctor, U.S. Census Bureau) (pdf)