U.S. Water Use Drops to Lowest Level in more than 40 Years
Monday, November 10, 2014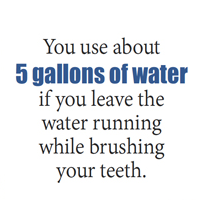 Water use in the United States has fallen 13% since 2005 and is at its lowest level since before 1970, according to a report (pdf) from the U.S. Geological Survey.
Americans use 355 billion gallons of water each day. As large as that number is, it has fallen from 410 billion gallons a day because of numerous conservation measures taken and a drop in the amount used for thermoelectric power—turning water into steam to drive a turbine. Thermoelectric is the biggest use of water nationally, accounting for 20% of the water used.
California, as might be expected, uses more water than any other state at 38 billion gallons a day—11% of the nationwide total—with 28.5 billion gallons of that going toward irrigation. (California also accounts for 12% of the nation's population.) That total is down from 46 billion gallons a day in 2005. Texas is next at 24.8 billion gallons a day, or 7% of the U.S. total.
The decline in use was greatest in thermoelectric use, where it fell by 20%. Getting the credit for that is power plant closures, less use of coal-fired plants and more efficient cooling technologies. Next was irrigation use with a 9% drop and public supply, which fell by 5%. The decline in public supply usage was a first and came despite a 4% population increase.
"Reaching this 45-year low shows the positive trends in conservation that stem from improvements in water-use technologies and management," Mike Connor, deputy secretary of the Interior, said in a statement. "Even as the U.S. population continues to grow, people are learning to be more water conscious and do their part to help sustain the limited freshwater resources in the country."
Twelve states—California, Texas, Idaho, Florida, Illinois, North Carolina, Arkansas, Colorado, Michigan, New York, Alabama and Ohio—accounted for 50% of the nation's water usage.
-Steve Straehley
To Learn More:
National Water-Use at Lowest Levels Since Before 1970 (U.S. Geological Survey)
Estimated Use of Water in the United States in 2010 (U.S. Geological Survey) (pdf)
How Does Personal Water Conservation Help When BigAg Is Using Most of It? (by Ken Broder, AllGov California)