U.S. Trade Representative: Who Is Robert Lighthizer?
Wednesday, February 08, 2017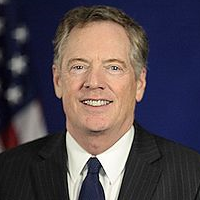 Robert Lighthizer
Robert Emmet Lighthizer, an attorney with long experience in trade matters and as a protectionist, was easily confirmed by the U.S. Senate in a sweeping 82-14 vote on May 11, 2017, to be U.S. trade representative.
Lighthizer was born October 11, 1947 in Ashtabula, Ohio, where his father was a physician. He attended private Gilmour Academy, graduating in 1965. Lighthizer went on to Georgetown, where he earned a B.A. in 1969 and his law degree in 1973.
Lighthizer started his career as an associate at the Washington law firm of Covington and Burling. In 1981, he was named chief minority counsel for the Senate Finance Committee. When Republicans won control of the Senate in 1981, Lighthizer was made chief counsel and staff director for the panel. Always a fan of Georgetown basketball, he twice hired Patrick Ewing as a summer intern.
President Ronald Reagan tapped Lighthizer to be deputy U.S. trade representative in 1983. One of his accomplishments in that position was to persuade Japan, South Korea, Mexico and the United Kingdom to limit their exports of cheap steel to the United States. That action was later found to be in violation of World Trade Organization regulations.
In June 1985, Lighthizer joined the Washington law firm of Skadden, Arps, Slate, Meagher and Flom and became a partner. Some of his early work there included lobbying on tax issues, but he focused on trade litigation and policy advice, in particular promoting the interests of U.S. Steel and the steel industry in general. In 1985, he lobbied on behalf of Brazil's Sugar and Alcohol Institute, part of the Brazilian Ministry of Commerce, regarding an ethanol-related trade dispute. Ten years later, Congress passed the 1995 Lobbying Disclosure Act, which prohibits anyone who has lobbied for a foreign government to become the U.S. trade representative. This means that he may need a waiver from both houses of Congress to be confirmed.
Lighthizer took time out in 1996 to serve as national treasurer for the ultimately unsuccessful presidential campaign of Sen. Bob Dole (R-Kansas).
Lighthizer has long been a protectionist. In 2008, he criticized presidential candidate Sen. John McCain (R-Arizona) for what Lighthizer believed were trade-friendly policies. And like Trump, who nominated Lighthizer for the U.S. trade representative post on January 3, Lighthizer has focused on China as a trade bogeyman. His concurrence with Trump's trade ideas was laid out in a 2011 op-ed in the conservative Washington Times titled "Donald Trump Is No Liberal on Trade."
In that article, Lighthizer wrote: "On a purely intellectual level, how does allowing China to constantly rig trade in its favor advance the core conservative goal of making markets more efficient? Markets do not run better when manufacturing shifts to China largely because of the actions of its government. Nor do they become more efficient when Chinese companies are given special privileges in global markets, while American companies must struggle to compete with unfairly traded goods."
Lighthizer has two adult children, Claire and Robert. His brother, Jim, is known as a Civil War expert and is president of the Civil War Trust, as well as being a former Democratic member of the Maryland legislature.
-Steve Straehley
To Learn More:
Robert Lighthizer Public Financial Disclosure Report (U.S. Office of Government Ethics) (pdf)
Robert Lighthizer Ethics Agreement
Trump's Trade Representative Could Negotiate for His Biggest Client's Industry (by Bill Allison, Bloomberg)
Trump's Trade Pick May Face Hurdle Over Past Lobbying for Brazil (by Bill Allison, Bloomberg)
Trump's New Trade Guru May Actually Be the Adult in the Room (by David Francis, Foreign Policy)
Trump Names Lighthizer as Trade Representative, Taps Pence Adviser for West Wing (by Philip Rucker and Ashley Parker, Washington Post)
Donald Trump Is No Liberal on Trade (by Robert E. Lighthizer, Washington Times)
Robert E. Lighthizer (by Anne Swardson, Washington Post