U.S. Senate Gets Its First Black Senator from the South since 1881
Wednesday, December 19, 2012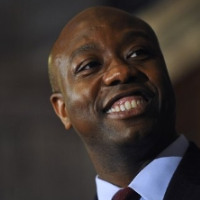 Tim Scott (photo: Rainier Ehrhardt, AP)
South Carolina Senator Jim DeMint's decision to resign his seat in Washington gave the state's governor, Nikki Haley, the opportunity to appoint a replacement of her choosing to serve until an election is held in 2014.
Haley chose Tim Scott, a Republican elected to the House of Representatives only two years ago. In taking over for DeMint, he will become the first black senator from the South since 1881. A Tea Party member, Scott will be sworn into office on January 3.
Scott will be the only African-American in the current Senate and only the seventh to serve ever.
The 47-year-old is considered a rising star in the Republican Party, which is looking for new leaders who can appeal to minority voters.
Prior to joining Congress, Scott served on the Charleston County Council for 13 years and in the South Carolina House for two years. He also worked on the 1996 reelection campaign of Strom Thurmond, a onetime segregationist who represented South Carolina in the Senate for decades. He won election to the U.S. House by defeating Thurmond's son, Paul.
-Noel Brinkerhoff, David Wallechinsky
To Learn More:
Congressman Picked for South Carolina Senate Seat (by Jeff Zeleny and Jennifer Steinhauer, New York Times)
More Than Half of U.S. States Have Never Elected an African-American to Congress (by Noel Brinkerhoff, AllGov)
100 Senators: 0 African-Americans, 0 Mexican-Americans, 2 Asian-Americans from Hawaii (by David Wallechinsky, AllGov)
Why Are There No Black Senators? (AllGov)