U.S. Labor Board Action against Nation's Biggest Hedge Fund Firm Puts Wall Street on Edge
Tuesday, October 18, 2016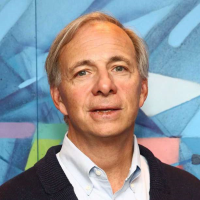 Bridgewater founder Ray Dalio (photo: Astrid Stawiarz, Getty Images)
By Alexandra Stevenson and Matthew Goldstein, New York Times
On Wall Street, moneymaking companies have long relied on confidentiality agreements to prevent employees from divulging their secrets.
But now, the nation's labor board has challenged some provisions in the contracts that Bridgewater Associates, the world's biggest hedge fund firm, requires each full-time employee to sign.
The unusual action is calling into question long-standing practices and prompting some companies to re-examine their employment agreements.
Prompted by a sexual harassment complaint by a former Bridgewater employee, the National Labor Relations Board filed a pending administrative action against the firm this summer saying Bridgewater "has been interfering with, restraining and coercing" employees from exercising their rights. The former Bridgewater employee, Christopher Tarui, claimed that he was the victim of sexual harassment by a male supervisor and that the hedge fund had retaliated against him when he complained.
Industry lawyers have warned about a potential precedent that could be set by a ruling from the NLRB on the matter. The labor board and Bridgewater are also discussing a settlement, which could come in the next few weeks, according to Michael Cass, a labor board official.
The terms of any agreement could have bearing on the industry, too.
"I would say it is a watershed event," said Richard Rabin, a partner in the labor and employment group at the law firm Akin Gump Strauss Hauer & Feld. "The risk of these cases has always been out there. But they have always seemed quite remote, and this is making investment managers take notice in a way they hadn't before."
Rabin said the labor board's action against Bridgewater — thought to be the first ever filed against a hedge fund — has money management firms worried because they share many of the same contractual provisions that are being challenged. Hedge funds and private equity firms are bracing themselves for a potential ruling against Bridgewater, he said.
The labor board has set its sights on several aspects of Bridgewater's employment contracts, including the confidentiality agreement, a nondisparagement clause and a compulsory arbitration provision that states that if mediation fails, employees must enter binding arbitration and waive their right to a trial by jury or to participate with other employees in a lawsuit.
It is part of a broader move by the labor board to go after employers in other industries that are using similarly restrictive employment contracts and employee handbooks.
The labor board is continuing to pursue the matter even though the underlying sexual harassment claim has been resolved. The NLRB action is not focused on the merits of the harassment claim, but rather on a contention by the former Bridgewater employee that he was put on paid leave from his job this year after informing the hedge fund that he intended to file a complaint with the labor board about the firm's employment practices.
"We spent decades building our intellectual property and have policies to protect it that are legal, consistent with industry standards and with the agreement of the people who are affected by them," Bridgewater said in a statement. "We will let the legal-regulatory system judge their merits."
The hedge fund firm — which manages $150 billion for more than 300 institutional investors, including state pension funds and sovereign wealth funds — is known for having an unusual internal culture. Employees are required to publicly challenge each other in pursuit of what its 67-year-old founder Ray Dalio calls "radical transparency." The firm is governed by a little white book called Principles, which is a compilation of Dalio's personal musings on life and work; all employees are expected to read it.
Video cameras capture much of what happens inside the walls of the firm's offices in Westport, Connecticut, and employees are often asked to review and weigh in on recorded meetings and debates among employees.
When the sexual harassment complaint against Bridgewater and the NLRB case were detailed in a front-page article in The New York Times, Dalio responded with a two-page letter arguing that his firm had been a victim of "sensationalistic and inaccurate" reporting.
The labor board's move comes as the hedge fund firm is scaling back its operations. It began to slow down its hiring this summer, and last month it announced plans to lay off some of its more than 1,500 employees. So far this year, its largest fund — the Pure Alpha II fund — is down 4.7 percent as of last week, and its All Weather fund is up 12.3 percent as of last week.
Within the industry, Bridgewater's standard employment contract is considered to be among the more restrictive, legal experts and recruiters say.
A copy of a Bridgewater contract from several years ago, which was reviewed by The New York Times, prohibited employees from disclosing the terms of the agreement to anyone except immediate family members and legal advisers even for a period of time after leaving the firm.
In another section, all current and former employees were required to inform Bridgewater executives if he or she received a subpoena before responding and to cooperate with the hedge fund in keeping nonpublic information about the firm confidential.
The labor board, however, is not challenging Bridgewater on a provision in its employment agreement that experts say is the most contentious — a two-year noncompete clause that limits the ability of hedge fund employees to move to another financial services industry job.
The two-year bar on taking a job is seen as extreme by some employment experts, who say that it is not just the length but how Bridgewater seeks to enforce the clause that stands out.
In the contract reviewed by The Times, Bridgewater stipulated that current employees inform the president of the firm of any new employment opportunities and added that the firm would let the employee know as soon as possible if it objected to the new job.
For two years after leaving Bridgewater, the firm can ask a former employee to provide an update on the new job up to four times a year to ensure the former employee was not working for a rival.
The former Bridgewater employee who prompted the NLRB action, Tarui, agreed to withdraw his sexual harassment claim against the hedge fund as a part of a settlement in which Bridgewater agreed not to enforce the two-year noncompete provision. That decision by the hedge fund allowed him to take a new job at the private equity firm Kohlberg Kravis Roberts & Co.
A lawyer for Tarui declined to comment.
The NLRB has scheduled a December hearing in Hartford, Connecticut, on its complaint. Still, the likelihood is that the NLRB case will settle, the outcome in most cases it brought last year.
Cass, a supervising lawyer with the federal labor board, said the NLRB was "still hoping to get this resolved."
Robert Kraus, a lawyer who often represents Wall Street employees in disputes, said it would not surprise him if the NLRB was looking for an opportunity to challenge contracts used by investment firms.
"If it was a narrowly drafted clause, it would not trouble the agency," he said. "But you see these agreements and they go on and on, and the agency believes they infringe on rights."