U.S. Epidemic of Sexually Abusive Doctors Runs Rampant under Medical System's Shroud of Secrecy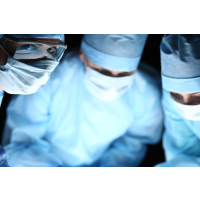 (photo: Megaflopp/Getty Images via thinkstockphotos.com)
By Atlanta Journal Constitution via New York Times
ATLANTA -- Sexual abuse by doctors against patients is surprisingly widespread, yet the fragmented medical oversight system shrouds offenders' actions in secrecy, allowing many to continue to treat patients, an unprecedented national investigation by The Atlanta Journal-Constitution has found.
The AJC obtained and analyzed more than 100,000 medical board orders relating to disciplinary action against doctors since 1999. Among those, the newspaper identified more than 3,100 doctors sanctioned after being accused of sexual misconduct; more than 2,400 of the doctors had violations involving patients. Of those, half still have active medical licenses today, the newspaper found.
These cases represent only a fraction of the incidents in which doctors sexually abused patients. Many remain obscured, the newspaper said, because state regulators and hospitals sometimes handle sexual misconduct cases in secret, and because some public orders are so vaguely worded that patients would not know that a sexual offense occurred.
What's more, even though the profession and its national lobby, the American Medical Association, condemn physician sexual misconduct and say consent is no defense, they have remained relatively silent on the issue, helping to ensure that it stays out of the public eye.
The newspaper's analysis of up to 16 years of public records showed sexual improprieties and misconduct involving doctors of all types: psychiatrists seducing the emotionally fragile; family practitioners fondling minors; anesthesiologists molesting sedated patients; obstetricians raping women who had come to them for care.
Violators included some of the country's most admired and accomplished physicians, including the team doctor for a professional basketball franchise, the president of a national medical society, and doctors renowned for pioneering research.
The scale and scope of misdeeds varied tremendously, ranging from lewd comments to patients during intimate exams, to rapes of mentally and physically disabled patients. But some doctors have been among the nation's worst sexual predators, with hundreds of victims over decades.
While the vast majority of the nation's 900,000 doctors do not sexually abuse patients, the AJC found the phenomenon is akin to the scandal that engulfed the priesthood: It doesn't necessarily happen every day, but it happens far more often than anyone has acknowledged.
"It would be one thing if it was only one incident, but to find out how prevalent it is, is frightening and angering," said Erin Vance, an Oregon woman who was sexually assaulted by a physician while she was under anesthesia.
According to the Journal-Constitution, sexual misconduct is tolerated to one degree or another in every state in the nation, as physician-dominated medical boards give their peers second chances, hospitals fail to report patient complaints, and prosecutors dismiss or reduce charges so doctors can stay off sex-offender registries.
Sometimes, doctors who molest patients or subject them to bizarre exams for sexual gratification are seen as sympathetic figures in need of therapy, not as predators who must answer to police, the newspaper reported. Many are cleared to practice after going to recovery centers.
In Georgia, the Journal-Constitution found, two-thirds of the doctors publicly disciplined after allegations of sexual misconduct were permitted to practice again. The same held true for Kansas. In Alabama, the figure was nearly 3 out of every 4; in Minnesota, 4 of every 5.
Larry Dixon, the longtime executive director of the Alabama Board of Medical Examiners, said it's wrong to believe all physicians who engage in sexual misconduct should automatically be barred from practicing.
"If you graduate a class of more than 100 people out of the University of Alabama medical school, the resources that have been poured into that education almost demand that you try to salvage that physician -- if it's possible," he said.
That view is shared by other regulators. "Let me say that it takes a lot of money to educate a physician," Vann Craig, the former executive director of the Mississippi State Board of Medical Licensure, told the AJC. "If they can be safely monitored and rehabilitated, I don't see why they can't come back from drugs, alcohol or sexual misconduct."
Robert Jeffery, executive director of the Georgia Composite Medical Board, acknowledged that his board issues private consent orders and private agreements in some sexual misconduct cases. He noted that public orders can inhibit doctors from reporting themselves or their peers.
"If the response every single time is going to be public suspension, public this, public that, then I think what you would end up with the unintended consequence of fewer reports," he said.
In scores of cases, the newspaper found, abuse continued for years as victims said nothing. Intimidated, confused or embarrassed, many feared that no one would take their word over a doctor's.
David Clohessy, the executive director of SNAP, an advocacy organization for people sexually abused by priests, doctors and others, said that when doctors "cross the boundary and their hands veer into the wrong places, we are in shock, we are paralyzed, we're confused, we're scared. We just do not want to believe, first of all, that a doctor is capable of this, and secondly that their colleagues and supervisors will not address this immediately and effectively when we report it."
The newspaper also found that only 11 states require medical authorities to tell law enforcement when doctors have sexually violated adult patients.
Because of all these factors, nobody really knows how many cases of sexual misconduct have been discovered by hospitals, medical schools, disciplinary board and police.
"There just isn't accurate data," said Dr. Gene Abel, an Atlanta physician who is a nationally recognized expert in evaluating sexual misconduct by professionals.
This story was compiled by Cameron Tankersley and Danny Robbins and reported by The Atlanta Journal-Constitution project team.
To Learn More:
State Says Doctors Don't Have to Tell Patients They Are on Probation (by Ken Broder, AllGov California)