U.S. Combat in Iraq is Over…Except for the Air Strikes and Deaths
Thursday, August 18, 2011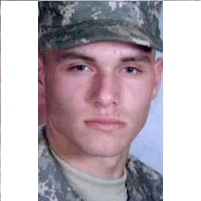 Spc. Daniel Elliott
In June, U.S. forces conducted two air strikes against militants targeting American troops.
One attack, involving Army Apache helicopters and targeting Iranian-backed fighters belonging to the Promised Day Brigade, led by Shiite cleric Moqtada al-Sadr, was prompted by a rocket attack on a U.S. base in Basra.
The other air strike was aimed at two militants accused of planting a roadside bomb on a route used by American convoys.
American commanders did not acknowledge the attacks until this week. The strikes came as the U.S. prepares to withdraw the last of its forces by the end of this year. Currently, about 46,000 troops remain in Iraq.
Forty-four American soldiers have died so far this year in the country where combat is officially not taking place. The most recent victim of hostile fire was 21-year-old Daniel L. Elliott of Youngsville, North Carolina, who was killed by an improvised explosive device in Basra.
-Noel Brinkerhoff