U.S. Citizen Sentenced to Life in Prison for Opposing Egyptian Government
Wednesday, April 15, 2015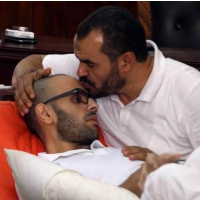 Mohamed Soltan, on hunger strike, gets kiss from his father (photo: Twitter)
An American citizen could wind up spending the rest of his life in an Egyptian prison for protesting against the government two years ago.
Mohamed Soltan was arrested in 2013 during demonstrations in Cairo that arose after the military ousted President Mohamed Morsi of the Muslim Brotherhood.
The Egyptian-American was among more than 35 other defendants who received the same sentence. Still others, including Soltan's father, Salah Soltan, were sentenced to death by the Egyptian court. Soltan's family intends to appeal.
"The verdict is the latest in a long series of similarly harsh sentences handed down at mass trials of dozens or hundreds of defendants accused of participating in violent protests or riots in the aftermath of the military takeover, often based on only police testimony or cursory evidence," according to The New York Times.
Soltan was working as a translator for journalists covering the protests and was shot in the arm during a demonstration on August 14, 2013. He was arrested at his home a few days later and has been jailed since, according to the Times. For the past year, he has been on a hunger strike to protest his arrest and detention.
Thousands of Egyptians are still in prison without being tried for opposing the military-backed government, which has been accused of vast human rights abuses.
The verdict also comes at a bad time for President Barack Obama who only last week authorized the release of hundreds of millions of dollars in military aid for Egypt despite the lack of democratic reforms on the part of officials in Cairo.
-Noel Brinkerhoff
To Learn More:
American Among Nearly 40 Sentenced to Life in Prison for Egypt Protests (by David Kirkpatrick and Jared Malsin, New York Times)
Ohio State Alumnus Receives Life Sentence in an Egyptian Prison (by Rubina Kapi, The Lantern)
Mohamed Soltan, 36 Others Imprisoned for Life (by Aya Nader, Daily News Egypt)
The Life and Imprisonment of 'Terrorist' Mohamed Soltan (by Aya Nader, Daily News Egypt)
Obama Approves Weapons for Egyptian Tyrant (by Noel Brinkerhoff and Danny Biederman, AllGov)
6 Major Corporations that Profit from U.S. Aid to the Egyptian Military (by Noel Brinkerhoff and Danny Biederman, AllGov)