U.S. Ambassador to Vietnam: Who Is Dan Kritenbrink?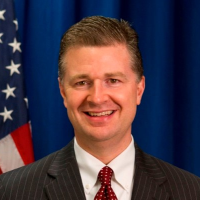 Dan Kritenbrink
Daniel J. Kritenbrink, a career member of the Foreign Service and expert on Asia, was nominated July 26, 2017, to be the U.S. ambassador to Vietnam. If he's confirmed, it will be his first such assignment.
Kritenbrink grew up on a farm outside Ashland, Nebraska, the son of Joyce and Donald Kritenbrink. He attended Ashland High School, where he played basketball. Kritenbrink then went to the University of Nebraska-Kearney, where he earned a B.A. in political science in 1991 and gained an interest in foreign affairs during a class trip to the Soviet Union. He then went to the University of Virginia and received his M.A. in 1993. Kritenbrink began work on a Ph.D., but gave up his studies when he was accepted into the Foreign Service in 1994.
Kritenbrink's first overseas assignment was in Tokyo, moving in 1995 to Sapporo, Japan. Beginning in 1997, Kritenbrink served at the embassy in Kuwait before returning to Washington in 1999 to become staff assistant to the assistant secretary for Near Eastern affairs.
The following year, Kritenbrink was back at the embassy in Tokyo, where he served until 2004. He then took two years to learn Mandarin. In 2006, he got a chance to use his new skills as a political internal unit chief at the embassy in Beijing. He returned to the United States to serve as director of the Office of Chinese and Mongolian Affairs, and as acting deputy assistant secretary of state for East Asian and Pacific affairs. He was back in Beijing in 2011, first as chief of the political section internal unit and, beginning in 2013, as deputy chief of mission and chargé d'affaires.
Kritenbrink returned to Washington and in June 2015 was put in a key role, serving as Asia policy adviser to the National Security Council. In the waning days of the Obama administration, Kritenbrink addressed such issues as North Korea's nuclear program, the lifting of the U.S. arms embargo on Vietnam and China's construction of islands in the South China Sea. His last assignment before his nomination to be ambassador was senior adviser for North Korean policy.
Kritenbrink and his wife, Nami, whom he met while on his first assignment to Tokyo and married in 1996, have two children. He speaks Mandarin and Japanese.
-Steve Straehley
To Learn More:
As Senior Policy Adviser for Asian Affairs, Nebraska Native at the Center of Some of the Hottest International Issues (by Joseph Morton, Omaha World-Herald)
State Department Cables 2007-2009 (WikiLeaks)