U.S. Ambassador to the Republic of the Congo: Who Is Todd Haskell?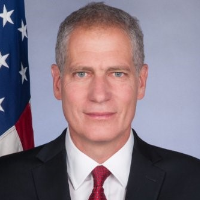 Todd Haskell
Todd Philip Haskell, a career member of the Foreign Service, was nominated by President Barack Obama on January 17, 2017, to be the next ambassador to the Republic of the Congo.
Haskell was born in 1962 and is from Hewlett Harbor, New York, on Long Island. He graduated from Lawrence High School in 1980 and went on to Georgetown's school of foreign affairs, where he earned his B.S.F.S. in 1984.
Haskell joined the State Department the following year. In 1986, he went on his first overseas assignment, as a general services officer and consul in Karachi, Pakistan, and moved to Manila as a consul in 1988.
In 1990, Haskell began a tour as a civilian observer in the multinational force in the Sinai Peninsula. He returned to more conventional duty in 1992, as consul in Poznan, Poland. Haskell returned to Washington in 1993 as an intelligence analyst in the State Department's Bureau of Intelligence and Research.
Haskell was sent to Tel Aviv as consul in 1996. While there, he was involved in the case of an American teen arrested and held by the Israeli government in 1998. Hashem Mufleh was boarding a plane for the United States when he was arrested and subsequently held for three months without bail on charges of being a member of Hamas. As consul, Haskell monitored the case and urged his release.
In 2001, Haskell was sent to Mexico City as consul. He received his first African assignment in August 2003 as public affairs officer in Ouagadougou, Burkina Faso. In August 2006, he took a similar role at the U.S. consulate in Johannesburg, South Africa. Haskell was sent to Santo Domingo, Dominican Republic in August 2010 as public affairs counselor.
Haskell returned to Washington in August 2013 for a stint as office director in the Africa Bureau's Office of Public Diplomacy and Public Affairs, where he was a member of the Ebola communications task force. He was named deputy assistant secretary for Southern Africa in the Bureau of African Affairs in August 2015.
Haskell and his wife, Jennifer, have three sons: Michael, Jonah and Seth. Haskell speaks French, Spanish and Hebrew.
-Steve Straehley
To Learn More:
Speech about State Department Policies & USAID Programs toward Africa at Africa Center for Strategic Studies (video)