U.S. Ambassador to the Dominican Republic: Who Is Robin Bernstein?
Monday, November 13, 2017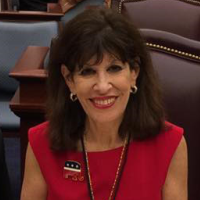 Robin Bernstein
It's not always what you know, it's who you know. Robin Bernstein, nominated October 31, 2017, to be ambassador to the Dominican Republic, claims to speak only "basic Spanish." But Bernstein is a founding member of President Donald Trump's Mar-a-Lago club, which apparently qualified her to be the U.S. representative to the Caribbean nation.
Born in 1953, Robin Stein Bernstein is from Bridgeton, New Jersey, and graduated from Bridgeton High School in 1972 after spending her junior year as an exchange student in Paris. She went to American University, graduating with a bachelor's degree in Language Area Studies in 1975. In 1981, Bernstein earned an MBA from George Washington University.
Bernstein jumped in to politics, initially as a Democrat. After graduation, she worked for Sen. Henry "Scoop" Jackson (D-Washington) in his unsuccessful quest for the 1976 presidential nomination. Bernstein then served briefly as a staff assistant for the Joint Congressional Economic Committee led by Sen. Hubert Humphrey (D-Minnesota), before joining the transition team of President-elect Jimmy Carter. She served in the Carter administration as an assistant to Assistant Commerce Secretary Jerry Jasinowski.
Bernstein moved to Palm Beach, Florida, in 1981, initially as a vice president of marketing for a development company. The company soon went under, and Bernstein found work as an administrative assistant to the Palm Beach County Commissioner Ken Spillias. While there, she took time to work in the 1984 campaign of Florida Governor Reubin Askew for the Democratic presidential nomination. She was also president of the Palm Beach County Young Democrats and Spillias' campaign manager in 1982.
In 1984, she married insurance broker Richard Bernstein and began working for his Palm Beach company, Richard S. Bernstein and Associates. She began a campaign of her own, running as a Democrat in 1986 for a seat on the Palm Beach County Commission, but withdrew after becoming pregnant. In 2002, the Bernsteins founded Rizbur, a political consulting company.
Beginning in October 1986, Bernstein switched to the Republican Party, working to persuade traditionally Democratic-leaning Jewish voters to support the GOP.
Bernstein has been a friend of Trump's since 1994. The Bernsteins' agency handles insurance for some of the President's interests and the couple was invited to Trump's 2005 wedding to Melania. "Donald is our Prince Charles," she told the Palm Beach Post at the time. "It's a great honor to be invited. He knows so many people that an invitation is a form of acknowledgement." Bernstein was a Trump delegate at the 2016 Republican National Convention and served as one of Trump's Florida electors in the Electoral College.
She was an early supporter of Rudy Giuliani's presidential bid in 2007. Four years later, she was the lead fundraiser in Florida for Rick Perry's presidential campaign.
Bernstein in 2010 attended an event in Palm Beach featuring Marine Le Pen, the far-right French presidential candidate whose politician father was an anti-Semite. Le Pen, herself, has denied France has any culpability in the Holocaust.
The Bernsteins, who summer in Kennebunkport, Maine, not far from the Bush family compound, have four adult children: Arthur, Julia, Alexandria and Ariel. Bernstein speaks French, Russian and German—and basic Spanish.
-Steve Straehley
To Learn More:
Robin Bernstein Talked Up Trump to Her Jewish Community. Now She's the Pick for Dominican Republic Ambassador (by Ron Kampeas, Jewish Telegraphic Agency)
Trump Names Mar-a-Lago Member With "Basic Spanish" Dominican Republic Ambassador (by Tim Elfrink, Miami New Times)