U.S. Ambassador to Norway: Who Is Kenneth Braithwaite?
Friday, November 10, 2017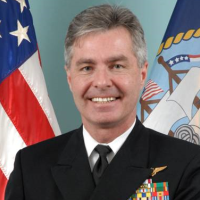 Kenneth Braithwaite
There are two kinds of people President Donald Trump likes to place into high-ranking positions: members of the military and veterans, and businessmen. Kenneth J. Braithwaite II, who was nominated October 19, 2017, to be ambassador to Norway, checks both the boxes.
Braithwaite is from Livonia, Michigan, and attended the United States Naval Academy. He graduated in 1984 with a degree in political science. He later earned a master's in government administration from the University of Pennsylvania, in 1995.
Braithwaite trained as a naval aviator, with his first assignment in 1986 flying anti-submarine missions as a member of Patrol Squadron 17, stationed at NAS Barbers Point in Hawaii. But after only two years in Naval Aviation, Braithwaite became a public affairs officer and in 1990, he was chief of public affairs for Naval Base Philadelphia.
Braithwaite left active duty in 1993 and joined the Naval Reserve, remaining a public affairs officer. That year, he was also elected a councilman from the borough of Ridley Park, a Philadelphia suburb, and worked for the oil giant Arco. In 1997, Braithwaite joined the staff of Pennsylvania Sen. Arlen Specter, then a Republican. Braithwaite first served as Southeast Pennsylvania executive director, then state director. Braithwaite left Specter's staff in 2000.
Braithwaite worked briefly as vice president of advocacy and government relations for Saint Thomas Health Systems in Nashville, Tennessee, before being named in 2002 as vice president of public and government affairs for Ascension Health in Washington, D.C.
Braithwaite's Naval Reserve duties included serving at NAS Willow Grove (Pennsylvania) in its combat camera unit; deploying to Iraq in 2003 in a naval support role; and becoming commander of the Joint Public Affairs Support Element-Reserve in October 2004. In this role, he was deployed to Pakistan to assist with relief efforts for a major 2005 earthquake.
In March 2007, Braithwaite was named senior vice president of the Hospital & Healthsystem Association of Pennsylvania and executive director of its Delaware Valley Healthcare Council lobbying group that represented more than 50 acute-care hospitals and 50 other facilities providing health care services in Southeastern Pennsylvania. That same year, he was promoted to the rank of rear admiral. The following year, he objected to Medicare and Medicaid cuts proposed by President George W. Bush as "draconian."
Braithwaite retired from the Naval Reserve in 2011 as vice chief of information and head of Naval Reserve public affairs. In November of that year, he was also named senior vice president for VHA (now Vizient), as well as executive director of the network of not-for-profit health care organizations.
Braithwaite also served on Trump's Defense Department transition team.
Braithwaite and his wife, Melissa, have two children: Grace and Harrison.
-Steve Straehley
To Learn More:
Official Biography (U.S. Navy)
Ex-Ridley Park Pol Picked as Ambassador to Norway (by Kathleen E. Carey, Delaware County Daily Times)
Ken Braithwaite Joins VHA Inc. as Senior Vice President and Executive Officer for VHA's East Coast and Pennsylvania Offices (VHA)