U.S. Ambassador to Croatia: Who Is Robert Kohorst?
Friday, September 29, 2017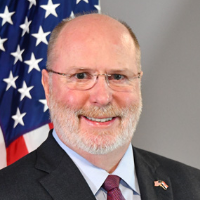 Robert Kohorst
William Robert "Bob" Kohorst, a businessman from the real estate industry and Republican donor who gave $194,000 to the Trump Victory political action committee, got his money's worth on September 2, 2017, when he was nominated to be ambassador to Croatia.
Kohorst is from Pasadena, California, and attended La Salle High School, a private Catholic school, graduating in 1971. He went on to the University of Dayton, where he earned a B.S. in accounting in 1975, then to the University of Michigan to get his J.D. in 1978.
In his first years out of law school, Kohorst clerked for Judge Albert Engel of the 6th Circuit U.S. Court of Appeals. From 1979 to 1982, Kohorst was an associate at Hufstedler, Miller, Carlson & Beardsley in Los Angeles; and then was a partner in the firm of Albert & Ellis. In 1984, he joined self-storage company Public Storage as president of its Private Placement Group. The company operates as a real estate investment trust (REIT), which gave Kohorst valuable experience for his future ventures.
Kohorst left Public Storage in 1990 to become chief executive officer of Tiger Shark Golf, a golf club manufacturer, and of Masquerade International, which sold Halloween costumes. Kohorst sold Masquerade International the following year to start Petcetera Originals, which marketed clothes for dogs. Also in 1991, he founded KH Financial, the predecessor to Everest, the REIT firm founded in 1994 that he continues to own. Everest focuses on self-storage properties, apartments and retail. He has specialized in buyouts of real estate limited partnership units.
In 2002, Kohorst became a trustee of Maxus Realty Trust, resigning from its board of directors in 2015. Maxus develops and redevelops real estate in Missouri, Arkansas, Oklahoma, Texas, Florida, Iowa and Kansas. Kohorst served as chairman and director of United Investors Real Estate. He is also a director of Professional Business Bank in Pasadena.
Kohorst has consistently been a big donor to Republican candidates. Having given $650,000 to the Republican National Committee alone between 2012 and 2016, with his wife, Shelley Allen, throwing in another $100,000. The two of them each gave $50,000 to Mitt Romney's presidential bid in 2012. More recently, he contributed to the campaigns of Marco Rubio and Ted Cruz. After the November 2016 election, Kohorst was a member of Donald Trump's Transition Finance Committee. In 2017, he has contributed at least $100,000 to the Republican Senatorial Committee.
Kohorst's sons, Kevin and Matt, also attended La Salle, and Kohorst continues to be involved in the school, serving as a trustee and raising money in 2006 to have lights installed on the school's football field. He is also a regent of Loyola Marymount University.
-Steve Straehley, David Wallechinsky
To Learn More