U.S. Ambassador to Cameroon: Who Is Peter Barlerin?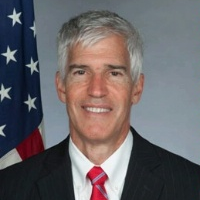 Peter Barlerin
Peter Henry Barlerin, a career Foreign Service officer with expertise in African issues, was nominated July 19, 2017, to be the ambassador to Cameroon. If he's confirmed, it would be his first ambassadorial posting.
Barlerin's father was also in the Foreign Service and the younger Barlerin grew up following his family to posts around the world. Barlerin attended Middlebury College in Vermont, earning a B.A. in 1980 and subsequently an M.A. in economics from the University of Maryland.
Early in his career, Barlerin worked as a research associate for the Center for Strategic and International Studies, a Washington-based think tank. Later he worked for President Ronald Reagan's Council of Economic Advisers before joining the State Department in 1989.
By 1997, Barlerin was serving in Madagascar. Beginning in 1999 he was in Japan and was serving as U.S. consul in Tokyo in 2002 when he signed documents compensating the victims of a collision the previous year between a Japanese fishery school boat and the attack submarine USS Greeneville. The United States agreed to pay more than $11 million to the survivors of the accident and the families of those killed when the sub surfaced under the Japanese boat off Hawaii.
Barlerin left Tokyo for Paris in 2004, serving there two years as economic policy advisor. In 2007 and 2008, he worked in the Office of Regional and Security Affairs. In 2008, he was the State Department's Chad Task Force coordinator. In 2009, he was named deputy chief of mission and then chargé d'affaires in Bamako, Mali. Barlerin subsequently served as special advisor to the chair of the Kimberley Process, which worked to keep rebel factions from profiting from the sale of rough diamonds. He then was made director of the Office of Economic and Regional Affairs, focusing on the sub-Saharan economy, energy and environmental issues as well as democracy and governance.
In June 2016, Barlerin was named deputy assistant secretary in the Bureau of African Affairs and served as acting assistant secretary after the March 2017 departure of Linda Thomas-Greenfield.
Barlerin's wife, Ines Rulis Barlerin, is from Chile. They have three adult children, Sebastien, Max and Nechi. Barlerin speaks French, Japanese, Spanish and Norwegian.
-Steve Straehley
To Learn More: