United States Ambassador to Uruguay: Who Is Kenn George?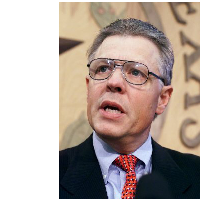 Kenn George
President Donald Trump has chosen an old crony of President George W. Bush to serve as the next U.S. ambassador to Uruguay. Kenn George is a Dallas businessman who grew up in Midland, Texas, with George W. Bush. Although George has no apparent connection to or knowledge of Uruguay, his appointment is a reward for being a Republican donor and politico. In fact, George has donated nearly $200,000 to Republican candidates and organizations, according to the Center for Responsive Politics. If confirmed by the Senate, he would succeed Kelly Keiderling, a career foreign service officer who has served in Montevideo since June 2016.
Born June 25, 1948, to Clem George, a geologist, and his wife Betty, in Midland, Texas, Kenneth S. George graduated Midland High School in 1966, where he was sports editor of the school newspaper and volunteered on Barry Goldwater's 1964 presidential campaign. George earned a B.A. at Washington and Lee University in 1970, and an MBA in 1976 at the University of Texas at Austin, where he was president of the graduate business school student body. Like Bush, George also avoided military service in Vietnam by joining the Texas National Guard.
After six years in the Guard, George worked in commercial real estate at the Trammell Crow Co. in Houston. In 1977 George led an investor group that bought a controlling interest in Olix Industries, a Texas oil and gas exploration company located in Midland. George was president and CEO, but sold his holdings in 1981 when Olix was sold to Adobe Oil & Gas.
He also worked on George W. Bush's 1978 losing race for a seat in Congress while serving as Midland County Republican finance chairman. He was also the Texas GOP state finance chairman from 1980 to 1981. In 1980, he was a co-founder of the pro-business leaders group Texas Lyceum.
From 1981 to 1985, George was an assistant secretary of commerce under Secretary Malcolm Baldrige, Jr. George was director general of the U.S. and Foreign Commercial Service and was involved in the origins and early implementation of the Caribbean Basin Initiative, a free-trade zone for the Caribbean.
After leaving the Reagan administration, George joined American Medical International Inc. as senior vice president of the Southwest region, which comprised 23 hospitals in Texas, Oklahoma, and Arkansas.
In 1988, George became chairman and CEO of Dallas-based Epic Healthcare Group, which American Medical had spun off. In 1994, when Epic sold to Health Trust Inc, George was given about $23 million in exchange for releasing his severance and stock appreciation rights.
From 1994 until 1995, George was chairman and chief executive officer of Ameristat, Inc., the largest private ambulance company in Texas. From 1996 through 2001, he was a general partner of Riverside Acquisitions.
From 1999 to 2003, George served as a Republican member of the Texas House of Representatives from Dallas County, where he was a reliable conservative. He left the legislature after a bruising failed run for Texas land commissioner in the 2002 Republican primary election. During the campaign, George was forced to remove an image of the Purple Heart medal from his website after his opponent, Jerry Patterson, called it misleading since George never got anywhere near combat while in the Texas Guard, whereas Patterson was a Vietnam War Marine Corps combat veteran.
After his 2002 defeat, George joined the board of directors of healthcare company Precis and managed his investments. George also joined the board of directors of the Koch brothers-created pro-business interest group, Citizens for a Sound Economy, which was disbanded in 2004. George became chairman of the Dallas County Republican Party in 2005, but left in 2008 after a 2006 election that was disastrous for Dallas Republicans.
In 2007, George and then-state Representative Tony Goolsby were sued for libel by Goolsby's former Democratic opponent, Harriet Miller. The suit contended that George, who was chairman of the Dallas County Republican Party, and Goolsby filed a false voter complaint against Miller with the Dallas County district attorney and then used it to attack her and suppress African-American voter turnout. After a couple years of expensive litigation, Miller had to drop the case.
Since 2009, he has been the owner and manager of Blue Harbor Plantation (BHP) and Blue Harbor Tropical Arboretum (BHTA) in Roatán, Honduras.
A passionate polo player, in 1996 George was named most-valuable player in that year's Walton Cup in Dallas.
Kenn George and his wife, Tricia, have four children.
-Matt Bewig
To Learn More:
Trump Names Dallas Republican Kenn George as Ambassador to Uruguay (by Todd J. Gillman, Dallas News)
Kenn George Says he's 'Uniquely qualified' for Position of Texas Land Commissioner (by Ed Todd, Midland Reporter-Telegram)
GOP Battle for Land Post one of most Heated Races (by Polly Ross Hughes, Houston Chronicle)
Ex-Oilman Takes on Hospital Challenge (by Andrea Adelson, New York Times)