United States Ambassador to Poland: Who Is Georgette Mosbacher?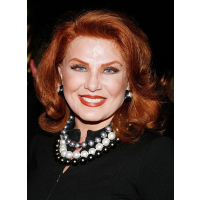 Georgette Mosbacher (photo: Joe Kohen, Getty Images)
The next U.S. Ambassador to Poland will be a Republican fundraiser who was once married to the Secretary of Commerce under President George H.W. Bush. Georgette Mosbacher, who grew up working class, but became rich during a string of marriages to wealthy, older men, has no known connection to or expertise about Poland, but she has donated more than $525,000 to Republican candidates and organizations over the years, according to the Center for Responsive Politics. Also, in October 2016, just weeks after Trump's infamous "grab 'em by the pussy" tape surfaced, Mosbacher came to his defense in an interview, calling him a "decent man." In an opinion piece in The Washington Times on July 2, 2017, she defended him by stating, "If Donald Trump's standard of behavior gets the job done, perhaps that standard should become the new normal. It is time to reset protocol to something that will better serve the nation. We should redefine what is presidential to take account of results, as in the business world. A businessman defines a problem, finds a solution, and acts. Yes, the president's decisive style of action doesn't always follow protocol, but it moves the ball."
If confirmed by the Senate, Mosbacher would succeed Paul W. Jones, a career Foreign Service Officer who has served in Warsaw since June 2015. Mosbacher has served on the U.S. Advisory Commission on Public Diplomacy since 2016.
She was born Georgette Paulsin on January 16, 1947, in Highland, Indiana, to Dorothy (Bell) and George Paulsin, a pipefitter. After her father died in a car crash when she was seven years old, her mother returned to work, and Georgette eventually took on childcare duties for her siblings George, Melody, and Lyn. She graduated Hammond High School in 1965, and earned a B.S. in Business at Indiana University in 1970, working three jobs to fund her education.
After graduating from Indiana University, Paulsin took a job at an advertising firm in Detroit, and then joined her brother, George, in Los Angeles in 1971. Two weeks later, she noticed wealthy realtor Robert Muir at a Sotheby's auction and posed as a reporter in order to meet him. A year later, in 1972, they married: he was 40, she was 25.
During her Muir years, she acted in one episode of the TV series Hunter and in the 1978 film, Fingers.
After her divorce from Muir in 1977, Mosbacher pursued an even older, wealthier man: George Barrie, who was CEO of Fabergé, where she worked as marketing director in their film production division from 1976 to 1980. They married in 1980, when he was 67 and she was 33. She left him in 1981, and they divorced in 1982 amid allegations of physical abuse, which he denied.
After actively looking for husband no. 3, Mosbacher met multimillionaire Texas oilman Robert Mosbacher in Houston. They were married in March 1985, when he was 68 and she was 38. Just a few years later, in 1989, Robert, a close friend of President George H.W. Bush, became secretary of commerce, serving through January 1993. During the Bush years, her ostentatious displays of wealth made her a favorite target of administration critics. She and Mosbacher divorced in 1998.
Also during those years, Mosbacher launched her own business empire. In 1987 she and her husband, with foreign investors, bought a struggling high-end cosmetics company, La Prairie, for $30 million. She pitched her products by saying they used as their base, "the famous black sheep of Switzerland," and that her target customer was an "affluent, very well-groomed, very discerning individual who is educated, very educated, about what she puts on her face." Four years later she sold the company for a reported $15 million profit.
In 1989, Los Angeles Times columnist Roger Simon wrote that Georgette Mosbacher was "beginning to rival Donald Trump as the Most Written About Person You Really Don't Want to Read About."
In the 1990s she ran Georgette Mosbacher Enterprises, a business and finance consulting company, and was CEO of cosmetics company Borghese from 2001 until her retirement in 2015.
Mosbacher has also been a major Republican fundraiser and activist. She served as a co-chair of the Republican National Committee's Finance Committee, and has worked with the National Republican Senatorial Committee and the New Republican Majority Fund. She was New York State's Republican National Committeewoman for more than ten years, and was the first woman to serve as general chairman of the Republican Governors Association. She also served as national co-chairman of Sen. John McCain's 2000 presidential campaign, and has been a major fundraiser for numerous Republican candidates.
Mosbacher has published two books: Feminine Force: Release the Power Within to Create the Life You Deserve (1993), and It Takes Money, Honey (1998). Jill Gerston of The Los Angeles Times described Feminine Force as "part autobiography, part self-help manual … stuffed with such yummy tidbits as: Wear neutral nail polish to board meetings, and man hunt at F.A.O. Schwarz on Saturdays (lots of divorced daddies buying toys for their kids--rich divorced daddies)." Andrew Jacobs of The New York Times called the latter book "a chatty personal finance primer for women that has headings like 'Put a Price Tag on Your Dreams,' 'Consider a Makeover' and 'Establish a Secret Stash.'"
In 1995, Mosbacher founded The New York Center for Children, which assists children and families in need. She serves on the boards of the Atlantic Council, the Intrepid Fallen Heroes Fund, and the Green Beret Foundation. On May 17, 2016, she was confirmed by the Senate as a commissioner on the State Department's United States Advisory Commission on Public Diplomacy,
Although married three times, Georgette Mosbacher has no children. She is, however, so devoted to her King Charles spaniels—a breed associated with aristocratic wealth for centuries—that she has told interviewers that she intends to have one, named Guinevere, cloned. In 2017, she joined with Patricia Altschul to found Patricia's Couture, which produces custom-made caftans emblazoned with portraits of the buyer's favorite pet.
-Matt Bewig, David Wallechinsky
To Learn More:
Eyes on the Prize (by Joanne Kaufman, People)
Hurricane Georgette: The Divine Mrs. M (Mosbacher) has a Few Tips for Women who want to Tap Their 'Feminine Force.' Let's Start with Neutral Nail Polish (by Jill Gerston, L.A. Times)
Fundraiser Georgette Mosbacher on why Trump is a 'Decent Man' (Financial Times)