Ambassador to Poland: Who Is Paul W. Jones?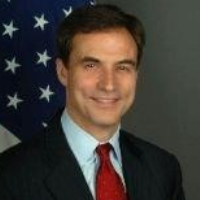 Paul Jones
Paul W. Jones, a career member of the State Department's Senior Foreign Service, was confirmed as the U.S. ambassador to Poland on August 5, 2015. It is the second such post for Jones.
Born in Yorktown Heights, New York, in 1960, Jones graduated from Yorktown High School, where he acted in school plays and played soccer. He went on to Cornell University and subsequently earned an MA in public administration from the University of Virginia in 1985. Later, he earned an MS from the Naval War College, where he wrote a long paper in 2000 on how the newly independent country of Macedonia managed to survive its turbulent early years.
Jones has served in a variety of assignments in Asia, Europe, and Latin America. He joined the State Department in 1987 after needing a few attempts to pass the Foreign Service exam. Early postings included Colombia (1987-1989), Russia (1992-1994), and Bosnia and Herzegovina, followed by such postings as Deputy Chief of the U.S. Mission to the Organization for Security and Cooperation in Europe and Deputy Chief of Mission in Macedonia (1996-1999) during the refugee crisis resulting from the conflict in Kosovo. In Washington, he served twice on the staff of the Secretary of State — in the 24-hour Operations Center and as Director of the Secretariat Staff (2000-2001).
From 2001 to 2003, Jones acted as Director in the State Department's Office of South Central Europe and from 2004 to 2005 at the U.S. Mission to the Organization for Security and Co-operation in Europe in Vienna, Austria.
Jones functioned as Deputy Chief of Mission and Chargé d'Affaires in the Philippines, from September 2005 to February 2009, and as Deputy Special Representative for Afghanistan and Pakistan and concurrently Deputy Assistant Secretary of State for Afghanistan and Pakistan, from February 2009 to September 2010.
In 2010, Jones assumed his first ambassadorial post, as the U.S. envoy to Malaysia. While there, he focused on educational projects; getting Malaysian students chances for advanced study; and promoting exchanges for American students in that country.
Jones returned to Washington in 2013 to serve as principal Deputy Assistant Secretary in the Bureau of European and Eurasian Affairs.
Jones speaks Spanish, Russian, and some Polish. An avid tennis player and fan since childhood, Jones participated in a celebrity tennis tournament in Malaysia, which benefited local charities. He is married to Catherine Cheremeteff Jones, whom he met while on assignment to Moscow. She is a French-trained chef and author of food and health books and the daughter of retired American diplomat Brandon Grove, Jr. Her mother, Marie Cheremeteff Abernethy, is married to former NBC News correspondent Bob Abernethy. The Joneses have a daughter, Aleksandra, and a son, Hale.
-Matt Bewig, Steve Straehley
To Learn More:
An Interview with Paul Jones, U.S. Ambassador to Malaysia (by Helen Caldwell, The Politic)
Ambassador Jones' Twitter home page
A Case of State Survival: Macedonia in the 1990s (by Paul W. Jones, United States Naval War College) (pdf)