Under-the-Radar Supreme Court Freedom of Speech Case Sends Shockwaves through Courts and Legislatures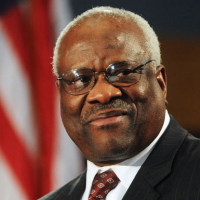 Justice Clarence Thomas (photo: Sidney Davis, AP)
A recent unanimous Supreme Court decision could result in government being unable to put any kind of content restrictions on speech—even misleading or safety-related messages.
An ordinance in Gilbert, Arizona, restricted the temporary signs churches sometimes use to direct worshippers to their services, but didn't restrict all types of signs. The Supreme Court ruled (pdf) on June 18 in Reed vs. Town of Gilbert that making the distinction was wrong.
Justice Clarence Thomas wrote for the court that content-based restrictions are subject to "strict scrutiny," a difficult hurdle for government to clear. In this case, it's akin to using a bazooka to swat a fly. The strict scrutiny standard means that there must be a compelling government interest in the content, that the policy be narrowly tailored to fit the interest, and that the least restrictive means of achieving that interest be used. Thomas' decision declares that any restriction on content is unconstitutional on its face.
That standard could make it difficult for government to restrict speech such as securities regulation, drug labeling and speech meant to protect consumers, noted Adam Liptak of The New York Times. The ruling may undermine numerous laws, including those that regulate malpractice and misleading advertising, he said, as well as tax return disclosures, medical form confidentiality and even petting zoo signs, according to Justice Stephen G. Breyer.
"Effectively, this would roll consumer protection back to the 19th century," Robert Post, dean of Yale Law School and a free-speech expert, told the Times.
The decision has already been cited as precedent in an anti-robocall case, an anti-panhandling ordinance and a case involving a voter who took a selfie with their ballot. "The majority opinion in Reed effectively abolishes any distinction between content regulation and subject-matter regulation," Judge Frank Easterbrook wrote in the panhandling case. "Any law distinguishing one kind of speech from another by reference to its meaning now requires a compelling justification."
Justice Elena Kagan joined in the result of Thomas' opinion, but in a concurrence took issue with the strict scrutiny standard, writing that it might mean that the Supreme Court "may soon find itself a veritable Supreme Board of Sign Review."
". . . I see no reason why such an easy case calls for us to cast a constitutional pall on reasonable
regulations quite unlike the law before us, I concur only in the judgment," she wrote.
-Steve Straehley
To Learn More:
Court's Free-Speech Expansion Has Far-Reaching Consequences (by Adam Liptak, New York Times)
Reed, et al. vs. Town of Gilbert, Arizona, et al. (U.S. Supreme Court) (pdf)
Federal Appeals Panel Rejects 24-Year-Old South Carolina Law Outlawing Political Robocalls (by Noel Brinkerhoff, AllGov)