Under Secretary for Nuclear Security: Who Is Lisa Gordon-Hagerty?
Monday, December 25, 2017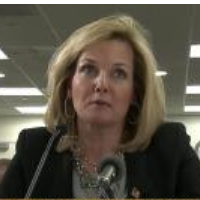 Lisa Gordon-Hagerty
Lisa Gordon-Hagerty, an expert in nuclear weapons and terrorism, was nominated December 11, 2017, to lead the National Nuclear Security Administration (NNSA). NNSA is a semi-autonomous agency within the Department of Energy responsible for overseeing the nation's nuclear weapons complex. It manages research laboratories and nuclear defense facilities that maintain the stockpile of nuclear weapons, as well as provide the propulsion systems for the U.S. Navy's nuclear fleet.
Gordon-Hagerty attended the University of Michigan, earning a B.S. degree in 1983 and a master's in health physics in 1986.
Her first job was as a health physicist at the Lawrence Livermore National Laboratory. She then moved to Washington to work as a staff member on the House Energy and Commerce Committee.
After two years on Capitol Hill, Gordon-Hagerty moved to the Department of Energy as director of the Office of Emergency Response and served for a time as acting director of the Office of Nuclear Weapons Surety. She was said to be one of the models for the character portrayed by Nicole Kidman in the 1997 film, The Peacemaker. In the movie, Kidman played a woman supervising the search for stolen Russian nuclear weapons.
In 1998, Gordon-Hagerty took a job on the staff of the National Security Council as director for combating terrorism. She was on duty in the White House when the terrorist attacks of September 11, 2001, occurred. As the U.S. response to the attacks was being debated, then-President George W. Bush urged Gordon-Hagerty's boss, Richard Clarke, to look for connections between Al-Qaeda and Iraq. Clarke said that had been investigated, and that there was no link between the two. Bush then reiterated his instructions, saying "Look into Iraq, Saddam." Gordon-Hagerty, who was present at the meeting with the president, "stared after him with her mouth hanging open."
Gordon-Hagerty left the White House and in December 2003 became executive vice president and CEO of USEC, which supplied fuel for commercial nuclear power plants. She lasted until September 2005, when she was forced out in a corporate reorganization.
Since then, Gordon-Hagerty has worked as a consultant on issues involving weapons of mass destruction and terrorism response. She was a senior adviser to Good Harbor Consulting and founded her own firm, LEG, Inc. Beginning in 2011, she also served as president of Tier Tech International, a consulting firm.
Gordon-Hagerty has trained with Navy SEALS and Delta Force. In 2007, she married Walter Houston, founder and CEO of Tier Tech International. Gordon-Hagerty served on the board of Colombo Bank and as managing director of venture capital firm Wise LLC.
-Steve Straehley
To Learn More:
Lisa E. Gordon-Hagerty (Sourcewatch)
Front-Line Duty (University of Michigan School of Public Health) (pdf; pages 30-31)