Three-Quarters of the Lions Killed in Africa are Shot by Americans
Wednesday, August 12, 2015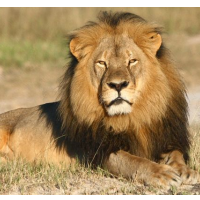 Cecil the Lion (photo: Andy Loveridge, AP)
The saga of Cecil the Lion, who was shot by Minnesota dentist Walter Palmer, has drawn attention to an ugly fact about the trophy hunting of animals in Africa: Americans are responsible for the vast majority of lions killed for sport.
Using data collected by the United Nations, Reveal found that Americans were responsible for 613, or 77%, of the 794 recorded African lions killed for trophies in 2013. Spaniards were responsible for the next most kills with 39, or 5%.
Americans' thirst for lion trophies has risen sharply over the past 25 years, with only 77 shipped to the United States in 1990.
Reveal also found that about 50% of the lions killed by Americans in 2013 were wild, while the remaining ones were bred in captivity and shot in "canned hunts."
The African lion population has dropped significantly since 1980, when there were 75,000. Today, their numbers are estimated between 20,000 and 32,000. Officials with the U.S. Fish and Wildlife Service have proposed listing the species as threatened and the International Union for the Conservation of Nature calls the African lion vulnerable.
Americans' thirst for trophies takes them even to Iran. Ibex, gazelles and the Transcaspian Urial, a rare breed of sheep, are hunted in Iran by hunters from the United States and elsewhere, according to the BBC.
-Noel Brinkerhoff
To Learn More:
Lion Hunting Is Booming, and Americans Do Most of the Killing (by Tom Knudson, Reveal)
Big Game Hunting in West Africa: What is Its Contribution To Conservation? (International Union for the Conservation of Nature and its Resources)
The Big Business of Trophy Hunting in Iran (by Siavash Ardalan, BBC Persian)
Outcry for Cecil the Lion Could Undercut Conservation Efforts (by Norimitsu Onishi, New York Times)