Three Botched Executions No Deterrent to Oklahoma's Commitment to Death Penalty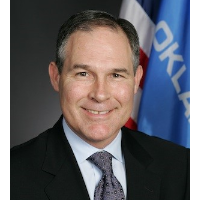 Oklahoma Attorney General Scott Pruitt
By Sean Murphy, Associated Press
OKLAHOMA CITY (AP) — Despite Oklahoma's bungling of its last three scheduled executions, the state's top law enforcement officer said justice demands that lethal injections resume once his office's probe into the last two drug mix-ups are complete.
Republican Attorney General Scott Pruitt said a grand jury directed by his office is nearing completion of a months-long, closed-door investigation into how the wrong drug was used to execute an inmate in January 2015 and then delivered again to death row for a scheduled lethal injection in September that was halted just before the inmate was to die.
Pruitt declined to discuss details while the probe was ongoing, but said state officials have a duty to Oklahoma citizens, who overwhelmingly support the death penalty, that it is carried out properly.
"It's important that as state officials, when the people of Oklahoma have said unequivocally that the death penalty is the right form of punishment in certain instances ... that we carry that out in a very sober and thoughtful way," Pruitt told The Associated Press.
Since Pruitt launched the investigation in October, three key players connected to Oklahoma's last several executions have resigned after showing up to testify — Oklahoma State Penitentiary Warden Anita Trammell, former Department of Corrections Director Robert Patton, and Gov. Mary Fallin's general counsel, Steve Mullins.
Pruitt declined to say whether the resignations were connected to his probe, and all three have been asked not to publicly discuss their grand jury testimony.
Oklahoma ranks second only to Texas in the number of executions carried out since the death penalty was reinstated in the United States in 1976, and has the busiest death chamber in the nation based on its population, according to the Death Penalty Information Center, which opposes capital punishment.
The drug mix-ups in Oklahoma followed a botched lethal injection in 2014 that left inmate Clayton Lockett writhing on the gurney and mumbling in an execution that Patton tried unsuccessfully to halt before the inmate died 43 minutes after the procedure began.
An investigation later revealed that a faulty insertion of the intravenous line and lack of training of the execution team contributed to the problems.
Pruitt acknowledged Oklahoma has struggled to obtain the necessary drugs needed to carry out executions because manufacturers of the most effective execution drugs have prohibited states from purchasing them for lethal injection. Pruitt has even suggested the state set up its own compounding laboratory as a potential solution to that problem.
"It's just something policymakers need to wrestle with — the securing and sourcing of these drugs for the long term," Pruitt said.
Since executions have been on hold in Oklahoma for most of the last two years amid two separate investigations, five death row inmates have exhausted their appeals and are awaiting execution dates. There are 49 inmates on death row in the state, including one woman.
Pruitt has said he won't request any execution dates until at least 150 days after his investigation is complete and the results are made public.
The state's interim prisons director said the execution team at the Oklahoma State Penitentiary in McAlester is continuing to prepare and practice for when lethal injections resume.
"I can guarantee the people of Oklahoma that when the time comes to carry out this duty, it will be performed humanely and properly," said interim Department of Corrections Director Joe Allbaugh.
But amid a budget crisis that has prompted deep cuts to state agencies across the state, death penalty opponents question the wisdom of Oklahoma leaders continuing to defend an increasingly expensive and problem-plagued policy of putting people to death.
"It's painful to know how much money we're spending to kill people," said Adam Leathers, a spokesman for the Oklahoma Coalition to Abolish the Death Penalty. "It may or may not bring some people a degree of catharsis, we don't know, but it sure seems to be costing the taxpayers a lot of money."