Theft of Files Relating to Lawsuit about CIA's Support of Human Rights Violations in El Salvador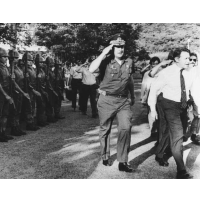 U.S. Defense Secretary Caspar Weinberger (R) with El Salvador military, 1983 (photo AP/Romero)
A human rights office at the University of Washington (UW) was burglarized earlier this month, raising suspicions that the theft was related to an ongoing investigation into the Central Intelligence Agency (CIA) in El Salvador in the 1980s.
UW's Center for Human Rights reported to police that its office was broken into and that a computer and hard drive were stolen. The equipment contained sensitive information about the center's recent lawsuit against the CIA for withholding documents pertaining to an American-supported El Salvador army officer suspected of human-rights violations during that country's civil war in the 1980s against leftist rebels, according to the Seattle Times.
Angela Godoy, whose office was burglarized, said in a statement that the theft could have been a common crime, but that there were suspicious elements to the burglary.
Mike Carter at the Seattle Times reported the break-in coincided with a campus visit by CIA Director John Brennan, who spoke Oct. 16 at a symposium at the UW law school.
UW's associate vice president for media relations and communications, Norm Arkans, cautioned against "connecting those dots." However, Godoy's office was the only one targeted in the break-in and showed no signs of forced entry.
The office appeared to be carefully searched rather than ransacked and the door was relocked upon exit, "characteristics that do not fit the pattern of an opportunistic campus theft," according to the center.
The center has backups of all the information, but employees there are concerned that the theft could put human rights workers now in El Salvador at risk.
-Noel Brinkerhoff
To Learn More:
Files for Lawsuit against CIA Stolen in 'Suspicious' Break-In at UW (by Mike Carter, Seattle Times)
UW Center for Human Rights Reports Theft of Data, Equipment (Center for Human Rights)
UW Law Student Sues CIA Over Data on Salvadoran Army Officer (by Mike Carter, Seattle Times)