The So-Called Economic Recovery has Meant Replacing Good Jobs with Lower-Wage Ones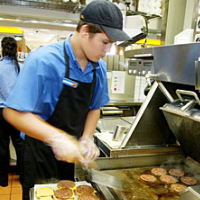 (AP Photo)
In the four years since the end of the Great Recession, most of the job growth has been in the low-wage sector, with service jobs far outpacing higher-wage employment opportunities.
A new report from the National Employment Law Project, a research and advocacy group, found that the weak recovery has replaced good jobs with bad ones, such as those in retail and the fast food industry.
Michael Evangelist, the report's author, said companies like McDonald's and Burger King are "driving the bulk of the job growth at the low end—the job gains there are absolutely phenomenal.
"If this is the reality—if these jobs are here to stay and are going to be making up a considerable part of the economy—the question is, how do we make them better?" he told The New York Times.
The report provides many statistics that explain why the economy continues to limp along since the end of last decade.
About 3.6 million jobs were lost in higher-wage industries during the downturn. Since then, however, the recovery has seen only 2.6 million of these positions return.
Meanwhile, lower-wage sectors lost 2 million jobs, but have gained back nearly twice as many, 3.8 million.
As for mid-wage industries, they accounted for 37% of job losses, but only 26% of recent employment growth. This has resulted in 958,000 fewer jobs in mid-wage industries than at the start of the recession.
There are also 10.5 million Americans still looking for work, putting the national unemployment rate at 6.7%.
With so many people seeking work, companies aren't motivated to offer better wages.
Consequently, the average household's net earnings have declined from $55,627 in 2007 to $51,017 in 2012 after adjusting for inflation, according to the U.S. Census Bureau.
"With joblessness high and job gains concentrated in low-wage industries, hundreds of thousands of Americans have accepted positions that pay less than they used to make, in some cases, sliding out of the middle class and into the ranks of the working poor," the Times' Annie Lowrey wrote.
-Noel Brinkerhoff
To Learn More:
The Low-Wage Recovery: Industry Employment and Wages Four Years into the Recovery (National Employment Law Project) (pdf)
Recovery Has Created Far More Low-Wage Jobs Than Better-Paid Ones (by Annie Lowrey, New York Times)
25 Million Americans Earn Less than Obama's Proposed Increased Minimum Wage (by Noel Brinkerhoff, AllGov)
Minimum Wage, Factoring for Inflation, is Lower than in 1956 (by Noel Brinkerhoff, AllGov)
Job Creators Best at Creating Low-Wage Jobs (by Noel Brinkerhoff, AllGov)