Some Americans Live up to 5 Years Longer Thanks to 1970 Clean Air Act
Saturday, September 26, 2015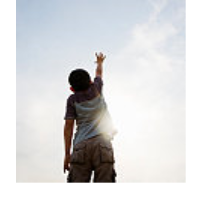 (photo: Getty Images)
Americans are living longer lives because the air they're breathing is less polluted due to the landmark Clean Air Act.
Since its passage in 1970, the Clean Air Act has resulted more stringent pollution standards, which have made it possible for people who lived in areas once blanketed in smog to improve their life expectancy.
For those living in coal country, the jump in life expectancy has been as much as five years. Residents of the Weirton, West Virginia–Steubenville, Ohio, metropolitan area in 1970 breathed air that "had particulate concentrations similar to current-day Beijing," according to Michael Greenstone, the Milton Friedman professor of economics at the University of Chicago and head of the Energy Policy Institute.
Writing in The New York Times, Greenstone said, "Some of the greatest improvements occurred in smaller towns and cities where heavy industries appeared to operate with few restrictions on pollution."
Those in Wichita, Kansas, are living 4.3 years longer, while residents of Phoenix, Arizona, New Castle, Pennsylvania, and Mobile, Alabama, are living nearly four years longer.
Even people living in Los Angeles, once the smog capital of the country, are living a year and eight months longer.
"Residents of New York and Chicago have gained about two years on average," Greenstone wrote. "With more than 42 million people currently living in these three metropolitan areas, the total gains in life expectancy add up quickly."
-Noel Brinkerhoff
To Learn More:
The Connection Between Cleaner Air and Longer Lives (by Michael Greenstone, New York Times)