Seven Degrees Hotter and Life on Earth Ends, Warns Kerry in Call to Action on Climate Change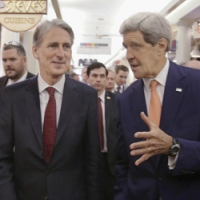 John Kerry (R) with British Foreign Secretary Philip Hammond (photo: Stephan Savoia, AP)
Secretary of State John Kerry has taken climate change deniers to task, warning of a "catastrophe" if immediate steps aren't taken to mitigate the problem.
"Life as you know it on Earth ends. Seven degrees increase Fahrenheit and we can't sustain crops, water, life under those circumstances," Kerry said in Boston, Massachusetts, after touring the nearby Wind Technology Testing Center with his counterpart, British Foreign Secretary Philip Hammond.
Kerry urged that technical solutions are the key to solving the problem of global climate change. "The solution is staring us in the face. It's very simple: clean energy," he said, according to Agence France-Presse. "And here is the kicker," Kerry said, "the market we're looking at is a $6 trillion market with four to five billion users today, climbing to a potential nine billion users by the year 2050. It is literally the mother of all markets."
He went on to point out food shortages in Central America caused by the persistent drought, but said the effects can be reversed through quick action. "We still have in our hands a window of opportunity to be able to make the difference," he said. "But the window is closing quickly. That's not a threat, that's a fact."
Kerry has previously compared the threat posed by climate change to that of terrorism and ISIS. "We see people fighting over water in some places. There are huge challenges to food security and challenges to the ecosystem, our fisheries and ... the acidification of the ocean is a challenge for all of us," Kerry said to a September meeting of foreign ministers, according to The Hill. "And when you accrue all of this, while we are confronting ISIL and we are confronting terrorism and we are confronting Ebola and other things, those are immediate.
"This also has an immediacy that people need to come to understand, but it has even greater longer-term consequences that can cost hundreds of billions, trillions of dollars, lives, and the security of the world," Kerry said.
-Steve Straehley
To Learn More:
John Kerry Warns: Time Running Out for Action on Climate Change (Agence France-Presse)
Kerry: Climate Change as Urgent as ISIS, Ebola (by Laura Barron-Lopez, The Hill)
Temperatures Rising as Belief in Global Warming Drops (by Ken Broder, AllGov California)
2012 U.S. Heat Record Said to be Due to Climate Change (by Noel Brinkerhoff, AllGov)