Senate Opens with 54-46 Republican Majority despite Republicans Winning Fewer Votes than Democrats
Tuesday, January 06, 2015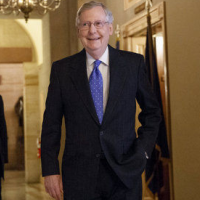 Senate Majority Leader Mitch McConnell (photo: J. Scott Applewhite, AP)
This week the U.S. Senate opens a new session featuring a Republican majority that came to power despite winning fewer votes than Democrats.
It's not the first time this has happened. In fact, it's becoming a regular occurrence in American politics.
Republicans now hold 54 Senate seats, compared to 46 for Democrats. But the GOP candidates only received 46.6% of the vote over the last three elections (during which a third of the seats were up for election each time). Democrats, meanwhile, collected 49% of the votes, according to the nonpartisan Fair Vote.
Also, the 46 Democratic senators received 67.8 million votes, while the 54 Republican ones received 47.1 million votes.
"This is in part a reflection of differences in turnout across elections and partly a reflection of the slight tendency for small states to elect Republicans and large states to elect Democrats," Fair Vote says in its blog.
"California Democrats Barbara Boxer and Dianne Feinstein, for example, won over 13 million votes combined to win their seats," continued the blog, "while Wyoming Republicans Mike Enzi and John Barrasso combined for just over 300,000 (2.3% of the California delegation's total)."
Republicans winning a majority of Senate seats while not winning a majority of votes is nothing new. This trend has been happening every 10 years: 2004, 1994 and 1984, according to AllGov's review of election results. It also occurred following the midterm elections of 1980 and 1982.
An AllGov analysis of 2010 Census data shows the result of giving each state equal representation in the Senate regardless of their population size:
· Population of 26 least-populous states = 18.65% of U.S. population. But accounts for 52 Senate seats.
· Population of California and Texas alone = 19.95% of U.S. population. But they have only four senators between the two of them.
Remarkably, the nine largest states in terms of population account for 50.27% of the U.S. population. But they send only 18 senators to Washington. The remaining 41 states elect the other 82 senators, even though they account for only 49.73% of the population.
-Noel Brinkerhoff
To Learn More:
Electing the 114th Senate: Votes and Seats (Fair Vote Blog)