Senate Approves Indefinite Military Detention of U.S. Citizens in U.S.
Wednesday, December 26, 2012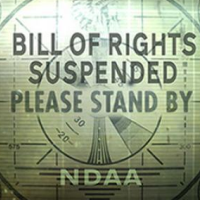 (graphic: occupy.com)
The National Defense Authorization Act (NDAA), which was used two years ago to allow the government to indefinitely detain anyone, including U.S. citizens, has been approved again by the U.S. Senate. This time, however, lawmakers had the chance to add protections for Americans accused of terrorist ties, and decided against it.
A group of Democrats and Republicans pushed for an amendment to the NDAA that would have prohibited the military from detaining American citizens on U.S. soil. But then a House-Senate conference committee led by Senator John McCain (R-Arizona) removed the provision from the bill.
Senator Rand Paul (R-Kentucky) blasted McCain and others for stripping away the amendment.
"We had protection in this bill. We passed an amendment that specifically said if you were an American citizen or here legally in the country, you would get a trial by jury," Paul said. "It's been removed because they want the ability to hold American citizens without trial in our country. This is so fundamentally wrong and goes against everything we stand for as a country that it can't go unnoticed."
Minus the amendment, the NDAA easily cleared the Senate on a vote of 81-14. It now goes to President Barack Obama for his signature.
-Noel Brinkerhoff
To Learn More:
NDAA Indefinite Detention Bill Passes Senate After Rand Paul Calls It An 'Abomination' (by Matt Sledge, Huffington Post)
Rand Paul Slams John McCain For Stripping NDAA Of Protections Against Indefinite Detention (by Jon Ward, Huffington Post)
The Final Battle (by Chris Hedges, Truthdig)
Cutting through the Controversy about Indefinite Detention and the NDAA (by Cora Currier, ProPublica)
Obama Administration Immediately Fights Back to Retain Indefinite Detention without Trial (by Noel Brinkerhoff, AllGov)
Federal Judge Halts Indefinite Detention of Suspects without Trial (by David Wallechinsky and Noel Brinkerhoff, AllGov)