Self-Interest of U.S. and Other Nations Dilute Global Draft Agreement on Refugee Resettlement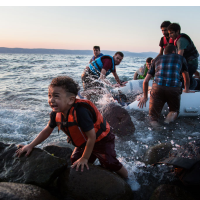 Syrian refugees arrive at Greek island of Lesvos (photo: Andrew McConnell, UNHCR)
By Somini Sengupta, New York Times
UNITED NATIONS — More people are forcibly displaced from their homes today than at any time since the end of the Second World War.
But the plight of these people is so politically contentious that after days of intense negotiations over a draft international agreement, the nations of the world have come up with virtually no concrete commitments to make their journeys any better or safer.
Western European countries, along with Russia, resisted what many had hoped would be a pledge to resettle one-tenth of all the people fleeing war and persecution. And the United States balked at language that would have committed all countries to not detaining unauthorized children who arrive at their borders.
At issue is a 22-page draft "outcome document" that the 193 countries of the U.N. are trying to agree on before the annual gathering of world leaders at the General Assembly in September. It is not legally binding. Still, the negotiations are so difficult that a draft text that had been expected to be adopted on Monday, after being postponed at least once before, was postponed again.
"This has been a very difficult topic — very, very difficult and timely," Dina Kawar, Jordan's ambassador to the U.N. and one of two diplomats leading the negotiations, said Monday.
The draft agreement comes at a time when refugees and migrants have become a divisive element in European and American politics. In the presidential campaign in the U.S., Donald Trump, the Republican nominee, has proposed barring Muslims from entering the country.
Refugees and migrants will be the biggest issue at the gathering of world leaders at the U.N. next month. President Barack Obama plans to lead a meeting at the General Assembly in an effort to nudge countries to take in more refugees and contribute to countries that have taken them in for years.
U.N. Secretary-General Ban Ki-moon also plans to hold a meeting on the plight of refugees and migrants. The document under negotiation will be the centerpiece of his meeting.
While the draft text has no force of international law, every sentence has been argued and negotiated. The resulting language is sometimes so vague that it is likely to bring little comfort to the millions of men, women and children who are seeking safety and opportunity abroad.
Eritrea, for instance, recently complained that the many references to human rights in the document were "redundant." (A U.N. committee earlier this year accused Eritrea of atrocities against its own citizens.)
Russia resisted a sentence that called for countries to share in the "burden" of taking in refugees. (Russia takes in very few, except lately, from parts of Ukraine.)
The U.S. suggested a phrase asserting that detention is "seldom" good for children. Activists for immigrants and refugees found that suggestion so appalling that they fired off a letter on Friday to Obama. They argued that any international agreement should make clear that detention is "never in the best interests of children" and should commit to ending the practice. (The United States detains children who arrive from Mexico without legal papers.)
Amnesty International said in a statement over the weekend that "with some states trying to dilute the agreement to suit their own political agendas, we may end up with tentative half-measures that merely reinforce the status quo or even weaken existing protection."
According to the United Nations, 24 million people worldwide left their home countries because of war or persecution in 2015. More than ten times that number — 244 million — were considered migrants, living somewhere other than the country of their birth.
This draft agreement sets out a long list of principles, most already enshrined in existing laws. It says refugees deserve protection and should not be sent back to places where they could face war or persecution. It urges countries to allow refugees to work and to let their children attend school, though it stops short of saying refugees have a right to either jobs or schools.
It asserts that migration can be good for the world, which is wording that migrant-sending countries wanted. It also calls for countries to take back their citizens if they travel illegally and fail to get asylum, which is what migrant-receiving countries, especially in Europe, wanted.
An early draft had proposed a global compact to allocate where refugees could be permanently resettled, but that proposal failed. African and Latin American countries wanted to know why the compact was on refugees alone, according to diplomats involved in the negotiations. Why not also have a compact on the rights of migrants?, they asked.
The latest draft sets a 2018 deadline for two compacts — one for refugees, a second for migrants.
The draft text also says nothing about the rights of the 40 million people who are displaced in their own countries, or about those who are leaving their homes because of climate change.
"This is a document very much about the present," said T. Alexander Aleinikoff, a former official at the U.N. refugee agency and now a senior fellow at the Washington-based Migration Policy Institute. "This is not a document that prepares us for the future."
To Learn More:
U.S. Top Destination for World's Migrants during 15-Year Surge in Global Migration (by Alexandra Olson, Associated Press)