Secretary of Veterans Affairs: Who Is Robert Wilkie?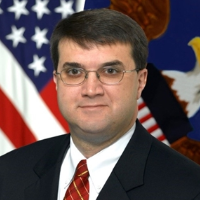 Robert Wilkie
Robert Leon Wilkie Jr., who has served since 2017 as the undersecretary of defense for personnel and readiness, was nominated May 18, 2018, to be the secretary of Veterans Affairs. Wilkie has run the department on an acting basis since March 2018, when David Shulkin was fired.
Wilkie was born August 2, 1962, in Frankfurt, West Germany, where his father, Robert Leon Wilkie Sr., was serving with the U.S. Army, eventually rising to artillery commander. His mother is the former Joy Somerville. Wilkie and his family lived for a while in Fort Sill, Oklahoma, before settling in Fayetteville, North Carolina, home of Fort Bragg. Wilkie graduated from Reid Ross High School in Fayetteville in 1980. He went to college at Tulane University, and then transferred to Wake Forest, where he earned a bachelor's degree in 1985. Wilkie then earned a J.D. at Loyola University of New Orleans in 1988.
After graduation, Wilkie went to work in the office of then-Senator Jesse Helms (R-North Carolina). Years later, at a 2006 hearing when Wilkie was nominated to be assistant defense secretary for legislative affairs, Wilkie cited Helms as "one of the great gentlemen of this body."
While Wilkie was working for Helms, Helms was one of only four senators who voted against the 1990 Ryan White Comprehensive AIDS Resources Emergency Act. Helms also proposed a bill that would have blocked aid to communities that refused to give contracts to companies that conducted business with the racist regime in South Africa.
Helms was known for such quotes as "The Negro cannot count forever on the kind of restraint that's thus far left him free to clog the streets, disrupt traffic, and interfere with other men's rights;" and "The government should spend less money on people with AIDS because they got sick as a result of deliberate, disgusting, revolting conduct."
While Wilkie was working for Helms, he also continued his education, earning a Master of Laws in international and comparative law from Georgetown in 1992 and subsequently a Master's in strategic strategy from the Army War College in 2002. Wilkie went on to work in the office of Rep. David Funderburk (R-North Carolina), who served one term in Congress beginning in 1995. In 1996, Wilkie mounted an ultimately unsuccessful campaign to win the Republican nomination for the Seventh Congressional District in North Carolina. He also served as executive director of the North Carolina Republican Party from 1996 to 1997.
In 1997, Wilkie moved over to the office of then-Senate Majority Leader Trent Lott (R-Mississippi). Wilkie first served as counsel on appropriations and Senate rules and procedure, and from 2000 as counsel and adviser on international security affairs.
Wilkie moved to the George W. Bush White House in 2003 as special assistant to National Security Adviser Condoleeza Rice before being nominated for the Defense Department post, where he served under Robert Gates and Donald Rumsfeld through the end of the Bush administration.
In 2010, Wilkie was named vice president and business development director for large Department of Defense program integration opportunities at design and construction consulting firm CH2M Hill. He returned to Capitol Hill in 2015 as an adviser to Sen. Thom Tillis (R-North Carolina). Wilkie worked on the Donald Trump transition team before being nominated in 2017 to be under secretary at Defense.
Wilkie has also served as an intelligence officer in the Naval Reserve and the Air Force Reserve.
Considering that Wilkie has a deep association with Republican senators, he will probably have an easy time winning nomination. When it was pointed out by veterans' group VoteVets that he was not supposed to simultaneously be acting secretary while being nominated to fill the post permanently, Wilkie resigned his position as acting secretary on May 30 and returned to his position as undersecretary of defense.
Wilkie's great-grandmother, Nellie Nugent Somerville, was the first woman to be elected to the Mississippi legislature. Wilkie and his wife, Julie, have two children: Adam and Megan.
-Steve Straehley
To Learn More:
Trump Picks North Carolina's Robert Wilkie to Lead the VA (by Brian Murphy, McClatchy Newspapers)
Senate Armed Forces Committee Hearings