Secretary of the of the American Battle Monuments Commission: Who Is William Matz?
Monday, December 18, 2017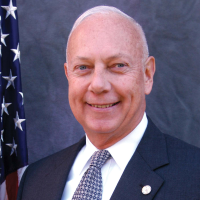 William Matz
William M. Matz Jr., a retired Army major general who more recently headed the non-profit National Association for Uniformed Services, was appointed December 5, 2017, to lead the American Battle Monuments Commission. Created in 1923, the commission administers and maintains 24 overseas military cemeteries where almost 125,000 American servicemen, largely from World War I and World War II, are buried.
Matz was born in Drexel Hill, Pennsylvania, and grew up in nearby East Lansdowne. He graduated from Lansdowne Aldan High School (now Penn Wood High School) in 1957 and went on to Gettysburg College. There, he competed in lacrosse and track and was in ROTC. Matz earned a B.A. in political science in 1961 and was commissioned a second lieutenant in the Army upon graduation. In 1973, Matz earned an M.A. in international relations from the University of San Diego.
One of Matz's early assignments was in South Korea, patrolling the demilitarized zone. In 1967, he was sent to Vietnam as a rifle company commander in the 3rd Battalion, 47th Infantry, 9th Infantry Division in the Mekong Delta. Matz was wounded in the arm February 1, 1968, at the beginning of the Tet offensive, while dragging wounded soldiers to safety in the city of My Tho.
Upon his return to the United States, Matz was an assistant professor in the ROTC program at Middlebury College in Vermont. He later planned and participated in more operations in Vietnam and continued to gain responsibility after the war, including service in the Office of the Deputy Chief of Staff for Operations and assuming command of the 3rd Battalion, 187th Infantry, 101st Airborne Division in July 1977.
In 1983, Matz assumed command of the 4th Training Brigade at the U.S. Army Armor School. He returned to the Army Staff as deputy director, Training Directorate in 1985, followed by a tour of duty as executive secretary to Secretaries of Defense Caspar Weinberger and Frank Carlucci. Matz participated in the 1989-1990 invasion of Panama as assistant division commander (support) of the 7th Infantry Division (Light). In 1990, he was named deputy commanding general, U.S. Army Pacific, based at Fort Shafter, Hawaii. He later served as the deputy commanding general and interim commanding general of First Corps and Fort Lewis, Washington, from November 1991 until his retirement from the Army as a major general in September 1995.
Matz then joined defense contractor Raytheon as its vice president of Army programs. In 2002, he moved to Saudi Arabia to head the Saudi National Guard modernization program for Vinnell-Arabia/Northrop Grumman.
In January 2005, Matz changed gears as he became president and administrator of the Society of Military Widows and president and CEO of the National Association for Uniformed Services, which worked on behalf of military members, veterans and their families until 2012, when he retired. Also in 2005, Matz was appointed by President George W. Bush to the to the Veterans' Disability Benefits Commission.
During the 2012 election cycle, Matz was one of many former flag officers who signed a newspaper ad supporting Mitt Romney during his unsuccessful campaign for the presidency.
Matz and his wife, Linda, have three grown children: William, Heather and Rebecca, and several grandchildren.
-Steve Straehley
To Learn More:
Maj. Gen. William M. Matz, Deputy Commanding General U.S. Army, Pacific (USARPAC)
Maj. Gen. William M. Matz Jr. (Ret.) '73 (MA) (University of San Diego)