Secretary of the Army: Who Is Mark Esper?
Thursday, August 17, 2017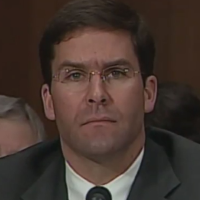 Mark Esper (photo: C-SPAN)
In his third try at naming a Secretary of the Army, President Donald Trump has turned to a longtime lobbyist for the arms industry, raising serious questions of ethics and conflicts of interest that are nothing new to this administration. Mark Esper has been vice president for government relations at Raytheon, a major weapons contractor, since July 2010. As Raytheon's top lobbyist, Esper had many tools of persuasion at his disposal, including $3.1 million in donations to candidates during the 2016 elections, spending $4.8 million on lobbying, and having Raytheon PAC make $1.5 million in donations to candidates for their support. Indeed, in a July 2017 conference call with investors, Raytheon CEO Tom Kennedy enthused that the Trump administration "has opened several doors for us."
Trump has had serious difficulties filling the top Army job. His first choice, billionaire money-man Vincent Viola, withdrew over financial conflicts he was unable or unwilling to fix, and his second pick, Tennessee Republican state Sen. Mark Green, withdrew over homophobic and Islamophobic statements he had made.
Born April 26, 1964, Mark T. Esper graduated Laurel Highlands High School in Uniontown, Pennsylvania, in 1982, where he lettered in football, basketball, and track. He earned a BS in Engineering at the U.S. Military Academy in 1986, a Master of Public Administration (MPA} at the John F. Kennedy School of Government at Harvard University in 1995, and a PhD in Political Science at George Washington University in 2008. His dissertation was entitled, The role of Congress in the development of the United States' strategic nuclear forces, 1947-1968.
Esper rose to the rank of lieutenant colonel during a decade on active duty, including a combat tour in Saudi Arabia and Iraq during the 1990-1991 Gulf War. Esper served with the 101st Airborne Division, led an Airborne Rifle Company in Europe, and was as an Army fellow at the Pentagon while working on his MPA.
Esper left active duty in 1996 to take a job as chief of staff at the ultra-conservative Heritage Foundation. After that, between 1998 and 2002, Esper took a series of military-related jobs for the Republican-led Congress, including legislative director and senior policy advisor for Sen. Chuck Hagel (R-Nebraska), senior staffer for international affairs and national security for the Senate Foreign Relations Committee, senior staffer for the Senate Governmental Affairs Committee, and policy director for the House Armed Services Committee.
Esper moved to the Executive Branch in January 2002 when he became deputy assistant secretary of defense for negotiations policy at the Department of Defense. Remaining in the position until 2004, he was responsible for arms control and nonproliferation issues. He returned to the Legislative Branch to serve as director for national security affairs for the Office of the Senate Majority Leader, Sen. Bill Frist (R-Tennessee) from June 2004 to 2006.
In April 2006, Esper took his first turn through the "revolving door" between government and the corporate world, when he was hired as executive vice president for defense and international issues at the Aerospace Industries Association, a lobbying organization for the U.S. weapons and aerospace industries. In this position, he worked to increase weapons sales to foreign governments in anticipation of a cutback in purchases by the Pentagon. In March 2007, Senate Minority Leader Mitch McConnell appointed Esper to the U.S.-China Economic and Security Review Commission for a term that lasted until the end of 2008.
Esper worked briefly as national policy director for Senator Fred Thompson's 2008 Republican Presidential Campaign from late June 2007 to February 2008, when it collapsed. Esper also left the Aerospace Industries Association in June 2008. Esper was then a senior scholar at the National Institute for Public Policy, a right-wing think tank funded largely by the weapons industry, where he completed his dissertation.
Giving the revolving door another spin, in November 2008 Esper took a job with the U.S. Chamber of Commerce, the largest American lobbying group for business. He was concurrently executive vice president for the Chamber's Global Intellectual Property Center, and vice president for Europe and Eurasia, until June 2010, when he went to work for Raytheon.
Mark Esper and his wife, Leah, married in 1989. They have three children.
-Matt Bewig
To Learn More:
Trump to Tap Raytheon Lobbyist as Army Secretary (by Jeremy Herb, CNN)
Trump Taps Raytheon VP as Army Secretary (by Conor O'Brien, Politico)
Trump to Nominate Raytheon Lobbyist for Next Army Secretary (by Thomas Gibbons-Neff and Greg Jaffe, Washington Post)
Trump to Nominate Raytheon Lobbyist for Army Secretary (by Rebecca Kheel, The Hill)